Young drivers face disproportionate risk of death on country roads
Rural roads see 71 per cent of all road fatalities among young drivers, compared to 57 per cent among wider population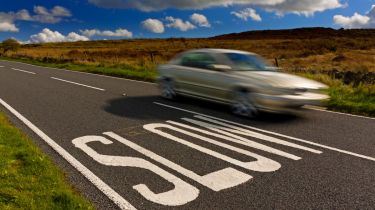 Young drivers are at a disproportionate risk of dying in a collision on a country or rural road, according to an analysis of fatality statistics. 
Some 71 per cent of all road fatalities among those in the 17 to 24 age group occur on rural roads, against a national average of 57 per cent. Drivers aged 17 are at greatest risk, with the dangers decreasing with each subsequent year. 
The research comes from the AA Charitable Trust, which found the A229 in Kent has the highest collision density among young drivers, with the A6076 in County Durham carrying the greatest risk overall for them.  
Rural roads are defined as non-motorway roads away from areas with a population of under 10,000, and they're the most dangerous road type in the country. 
There were 1,752 road deaths in the UK in 2019, according to official Government data. Of these, 994, or 57 per cent, were on rural roads, despite these roads carrying only 43 per cent of all traffic. There were 653 deaths, or 37 per cent of all fatalities, on urban roads, which take 37 per cent of all traffic; Motorways were witness to 105 deaths in 2019, equivalent to six per cent of all fatalities, despite these roads carrying 20 per cent of traffic. 
Risks for rural roads are even higher for young people, with the AA Charitable Trust's research finding young people are overrepresented in collisions on rural roads by nine per cent compared to all other road types. Young drivers are also more likely to be involved in a single-vehicle collision on rural roads.
Researchers from Agilysis and the Road Safety Foundation helped put the analysis together, studying 74,919 collisions involving young drivers between 2013 and 2018. The teams have put together an interactive map to highlight the dangers of individual roads. 
Transport Secretary Grant Shapps said "rural roads are often narrow with blind bends", adding that it was "essential to improve young drivers' awareness of the dangers posed by rural roads. 
Edmund King, director of the AA Charitable Trust, said: "Our data clearly shows that the rural road risk is highest for the youngest drivers on our roads and decreases with each year of age. This is a clear sign that greater education and exposure to rural roads helps alleviate the risks they pose."
King added that this research "is just the first stage" in the trust's ongoing safety campaign aimed at targeting the risks posed to young drivers by rural roads.
What can be done to reduce the number of accidents and deaths on rural roads in the UK? Tell us your thoughts in the comments...