London Congestion Charge will increase to £15 and operate seven days a week
Transport for London announces temporary price hike and extension of operating hours for the Congestion Charge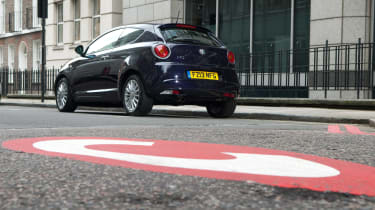 The London Congestion Charge will temporarily increase to £15 per day and have its hours of operation extended to between 7am and 10pm, seven days a week from 22 June.
The daily charge for driving into central London was suspended on 23 March 2020 as one of several measures to keep the capital moving during the coronavirus pandemic.
Following a 90 per cent reduction in fare revenue on busses and the London Underground, Transport for London (TfL) has secured a £1.6 billion bailout from the Government to keep public transport in the capital running, with a number of terms and conditions attached. Further changes to the Congestion Charge fall under these new conditions.
TfL has announced a package of temporary changes to the Congestion Charge, aimed at discouraging Londoners from making unnecessary car journeys. The Congestion Charge will return on 18 May exactly the same as it was before - £11.50 per day, enforced between 7am and 6pm on weekdays.
On 22 June, the temporary £15 daily fee and extended hours of operation will be brought into effect. It is currently unknown when these measures will be reviewed or lifted. The measures are expected to reduce car journeys inside the Congestion Charge zone by a third. There will be no change to the existing exemptions for low and zero emission vehicles.
It comes as Mayor of London Sadiq Khan announces plans to turn parts of central London into "one of the largest car-free zones in any capital city in the world".
Some streets in the city centre are to be converted to walking or cycling only, with Khan aiming to prevent air pollution levels in London returning to where they were before the coronavirus crisis.
Edmund King, president of the AA, commented: "Even though TfL were between a rock and a hard place in terms of finances, these hikes are taking the charges from a 'congestion' charge to a 'taxation' charge. Traffic at weekends and in the evenings is at its lowest ebb and hence this is no longer a congestion charge.
"What are the alternatives for longer journeys? Public transport can't cope. More walking and cycling, whilst welcome, isn't viable for all people and all journeys. There are just 10,000 park and ride (Tube) spaces in London, so emergency measures should be brought in to set up park/cycle facilities at the O2, Stratford and other locations.
"It is difficult to justify the weekend charge at all and in due course this will backfire on trying to get things back to normal in terms of encouraging Londoners back to retail, leisure, arts, and religious activities. The only saving grace may be a rush for more Londoners to buy electric vehicles in order to avoid the charges."
Nicholas Lyes, head of roads policy at the RAC, added: "With public transport use being actively discouraged, it's very disappointing that the Congestion Charge is not only being reintroduced so quickly, but also being massively hiked from late June. This will be a bitter pill to swallow and will no doubt hit many key workers for whom the car is a safe, reliable alternative at present."
Do you agree with the London Congestion Charge price hike? Let us know your thoughts in the comments section...