Calls for car dealerships to reopen as closures costs Treasury £61 million a day
Every day dealers remain closed costs the Treasury £20 million in lost tax revenue, and £41 million in furlough payments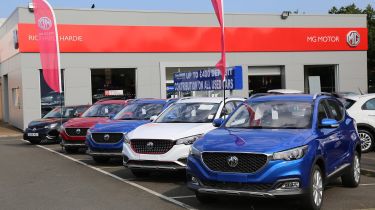 New car dealerships must to be allowed to reopen "as a matter of urgency", according to industry bosses, who highlight that the Treasury is losing £61 million every day they remain closed.
VAT, Vehicle Excise Duty (VED) and other taxes on private car sales generate £5.4 billion of tax revenue for the taxman every year. The Society of Motor Manufacturers and Traders (SMMT) estimates 23 per cent of this (£1.24 billion) will have been lost by the end of May as a result of the UK's coronavirus lockdown.
Each additional day new car dealerships remain closed sees the Treasury lose £20 million in taxes while payouts to the car industry's 590,000 furloughed retail workers are seeing the Treasury spend £41 million a day.
Classed as non-essential retailers, the earliest date on which the UK's 4,900-strong network of new car dealerships might be allowed to reopen is 1 June. The SMMT argues that car showrooms are one of the easiest types of retailer in which to maintain social distancing, and that the industry is ready to put the proper measures in place.
The UK automotive sector has already lost £8 billion as a result of lockdown, with new-car registrations down 97.3 per cent in April. Production lines are now starting back up again, though, and the SMMT claims there is pent-up customer demand that can be fulfilled.
Mike Hawes, chief executive of the SMMT, said: "Government measures to support the critical automotive industry during the crisis have provided an essential lifeline, and the sector is now ready to return to work to help the UK rebuild. Car showrooms, just like garden centres, are spacious and can accommodate social distancing easily, making them some of the UK's safest retail premises.
"Allowing dealers to get back to business will help stimulate consumer confidence and unlock recovery of the wider industry, boosting tax revenue and reducing the burden on Government spending. Unlike many other retail sectors, car sales act as the engine for manufacturing and reopening showrooms is an easy and relatively safe next step to help get the economy restarted. With every day of closure another day of lost income for the industry and Treasury, we see no reason for delay."
Do you think car dealerships should reopen? Let us know your thoughts in the comments section below...