Almost half England's major road bridges are in 'poor' condition
Highways England data reveals the perilous state of 4,000 of England's 9,000 road bridges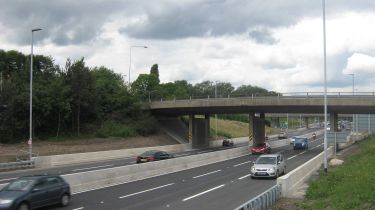 Almost half of the 9,000 bridges on England's motorway and major A-road network have sections that are in 'poor' or 'very poor' condition, according to data released by Highways England under the Freedom of Information Act.
The released information reveals that of the 9,000 bridges and large culverts (drainage structures under highway embankments) under the management of Highways England, 3,836 have sections that are poor or very poor. This means that they have either moderate or severe defects or damage that could significantly affect their capacity, or require measures such as vehicle weight restrictions, or complete closure. Of those 3,836 structures, 858 were judged to be 'very poor'.
A further 2,000 bridges and other structures had not been inspected for over two years, against guidelines. Of these, 400 had previously been found to have sections in poor or very poor condition.
Regional breakdowns show the North West had the highest proportion of poor or very poor structures, at 43 per cent, followed by Yorkshire and the North East, at 36 per cent. The M6 motorway has 141 bridges with very poor sections, with a further 90 getting such a rating on the M1, 51 on the M62, and 50 on the M5.
The revelations follow the closure of London's Hammersmith Bridge, which has such severe structural defects it has not been open to traffic since April 2019. Separate data from Transport for London shows 200 out of the 500 bridges and other structures under its control have sections in poor or very poor condition.
Highways England resisted releasing the information to The Times initially, but was forced to by the Information Commissioner. The Government-owned company, which is responsible for around 4,300 miles of the country's motorways and major A roads, played down the findings, telling The Times: 
"All our structures are safe and regularly inspected...A rating of 'poor' or 'very poor' does not mean that a structure is unsafe; it is simply a way of recording a visual inspection, such as the condition of the paint, to allow us to consider the future maintenance requirements."
What do you think about the state of the UK's road infrastructure? Have your say in the comments...