New limited Jaguar F-Type Reims Edition unveiled
Jaguar F-Type Reims Edition supposedly serves as a remedy for what's famously the most miserable day of the year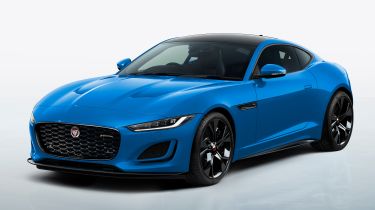 Jaguar has launched a new, limited edition version of the F-Type. It's called the Reims Edition with just 150 coming to the UK with prices starting from £58,950.
The special edition coupe's launch has been timed to coincide with Blue Monday – a date, typically falling on the third Monday in January, which is popularised by the UK media as the most gloomy day of the year. And, conveniently, Jaguar says the F-Type Reims Edition offers the "perfect antidote" to the day's misery.
Changes over the standard F-Type include a panoramic glass roof, 20-inch alloy wheels and the F-Type's exterior black pack, swapping the coupe's side vents, badges and grille surround for gloss black replacements. The car's bodywork is finished in a unique tint called French Racing Blue.
Inside, the F-Type Reims Edition features gloss black trim, heated seats and ebony upholstery. Buyers also get a heated steering wheel and heated windscreen thrown in as part of the package. In total, the special edition model represents a saving of up to £4,160, compared to if the options were individually specced on a standard F-Type.
The special edition F-Type is available with two rear-driven powertrains. The entry-level P300 model features a turbocharged 2.0-litre four-cylinder petrol engine, which produces 296bhp and 400Nm of torque – enough for a 0–62mph time of 5.4 seconds and a top speed of 155mph. 
The P450 variant is priced from £71,450. It's powered by a 5.0-litre V8, which has an output of 444bhp and 580Nm of torque. The unit decreases the F-Type's 0–62mph time to 4.4 seconds, while bumping up its top speed to 177mph.
Jaguar says the Reims Edition nameplate iw inspired by the company's racing heritage – specifically the D-Type's maiden victory at the 12 Hours of Reims in France back in 1954. The British brand also released an XE Reims Edition in 2019, sporting a similar range of upgrades and an identical French Racing Blue paint scheme.
What do you make of the Jaguar F-Type Reims Edition? Let us know in the comments section below…