Flying cars: Urban Air Port gains Government backing
A company developing aviation infrastructure for electric and autonomous air vehicles has backing of UK Government and Hyundai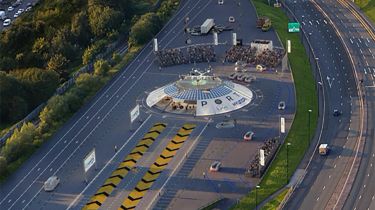 Flying cars could be on the way, with the UK Government having awarded financial support to a company that's developing aviation infrastructure for electric and autonomous air vehicles with vertical take-off and landing (VTOL) capability.
British firm Urban Air Port's project 'Air-One' will see the world's first fully operational hub for electric VTOL aircraft - such as cargo drones and flying taxis - set up in Coventry later this year. The company's broader aim is to provide zero-emission air passenger journeys and deliveries.
Urban Air Port has now been selected as a winner of the Government's Future Flight Challenge, entitling it to a £1.2 million grant. The money comes from the £125 million Industrial Strategy Challenge Fund and is expected to be matched by up to £175 million from private industry.
The firm is already a priority infrastructure partner of Hyundai Motor Group's Urban Air Mobility Division. The Korean brand is supporting Air-One and intends to build its own electric VTOL aircraft, which it wants to commercialise by 2028.
Urban Air Port plans to develop more than 200 sites in the next five years. Each one will be 60 per cent smaller than a traditional heliport, emit net-zero carbon and be completely off-grid. The sites - which can be built in "a matter of days" - will also be of use in emergency situations, with the ability to rapidly deploy drones and flying vehicles to transport supplies, equipment or people.
Ricky Sandhu, founder and executive chairman of Urban Air Port, said: "Flying cars used to be a futuristic flight of fancy. Air-One will bring clean urban air transport to the masses and unleash a new airborne world of zero emission mobility."
Gary Cutts, UK Research and Innovation Future Flight Challenge director, said Air-One would "help to position the UK at the vanguard of electric urban air mobility".
Are you keen to get on board a flying car? Let us know in the comments...