UK motorway EV charging network sold to Gridserve
The Hitachi-backed company, which already owned a 25 percent stake in the network, has bought the rest of business from Ecotricity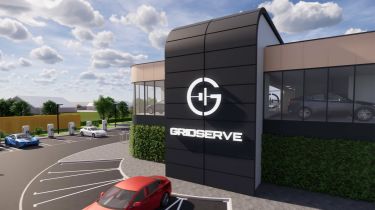 Gridserve, the charging service provider backed by Hitachi, has bought out the rest of the Ecotricity Electric Highway project. 
Gridserve acquired a 25 percent stake in the Electric Highway in March this year, and this next move is expected to bring tens of millions of pounds worth of investment to the UK's motorway charging network, which has previously developed a reputation for unreliability.
According to the Financial Times, Gridserve has set aside tens of millions of pounds for the rest of the Electric Highway business, which is separate from the cash it's due to spend on updating the network's charging sites in the future. 
The cash injection will be used to swap the network's existing chargers (which have been criticised for their slow speeds) with new units that support CCS, CHAdeMO and AC connections. Investment will also be made in green technologies such as making natural gas from grass, and forging diamonds from carbon pulled from the air.
Ecotricity and Gridserve will install between six and 12 350kW DC rapid chargers at each motorway service station. All of the new chargers will support contactless payment, as demanded by legislation, and the companies hope the planned upgrades will help further encourage EV ownership.
Ecotricity's owner, Dale Vince, told the FT that the Electric Highway needs "tens of millions" of pounds worth of investment to bring it up to scratch, and that the project "needs an owner with access to serious funding and real commitment to the cause" to see the renovations through to their completion.
These upgrades to the UK's motorway charging network were initially triggered after the Department for Transport (DfT) said it planned to ensure at least six high-powered, open-access EV charge points were installed at every motorway service station in England by 2023, to address concerns about the speed and reliability of some existing units.
The DfT expects there will be 2,500 such chargers across the Highways England network by 2030, rising to 6,000 by 2035. The Competition and Markets Authority (CMA) has already launched a consultation aimed at improving public confidence and private investment in the UK's EV charging sector.
Gridserve's CEO, Toddington Harper, said the upgraded network would "provide the confidence people need to immediately make the transition" to electric vehicles, adding that it would ensure EV charging is "straightforward" and "anxiety free."
Earlier this year, Transport minister Rachel Maclean told Auto Express the CMA consultation would "ensure that it is as easy – or even easier – for drivers to charge their car as it is to refuel a petrol or diesel vehicle."
She added: "We're… proposing that operators should make location data, power rating and price information more accessible for drivers as this is essential for ensuring costs are fair, boosting the confidence of both existing electric vehicle drivers and those considering making the switch."
Thinking of buying an electric car? Check out our tips and advice page on the UK's charging network…