Lotus teams up with JBXE Racing for new Extreme E series
Jenson Button's Extreme E racing team has enlisted the help of Lotus for this year's season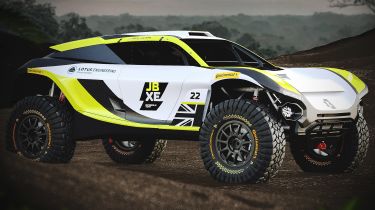 Lotus Engineering has paired up with JBXE Racing for this year's Extreme E off-road racing series. The British brand will act as the team's technical partner, offering engineering expertise throughout the inaugural season, which begins on 3 April.
JBXE Racing was founded by 2009 Formula One World Champion Jenson Button, who will also drive in the 2021 series. He's joined by multiple Scandinavian Touring Car race-winner Mikaela Åhlin-Kottulinsky.
Button said: "Extreme E is a unique and exciting formula, full of world firsts and challenges, and to announce that a brand such as Lotus Engineering is coming on this journey with us is a proud moment for myself and the team. We are very excited about our new technical partnership and can't wait to show what we can do in the first race this weekend."
Matt Windle, Managing Director of Lotus, said: "We are on the cusp of an exciting new era of electrified motorsport, and we're delighted to support the JBXE team as Technical Partner. The complex technicalities of EV racing present a fascinating challenge, and using our learnings from more than a decade of electrifying sports cars – most recently with the Lotus Evija hypercar – we can bring valuable knowledge to the team."
Specific details about the technical partnership between Lotus and JBXE are yet to be confirmed. The British brand won't have much wriggle room for engineering development, though, as every Extreme E racer is based on a standard package of parts.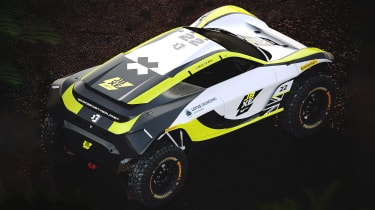 Extreme E racers are an electrified take on traditional Rally Raid and Baja racers. They're based around a tubular steel alloy frame and powered by a 536bhp electric powertrain. Every car will also feature a battery pack from Williams Engineering.
Thanks to all that grunt, along with a sophisticated suspension system and some knobbly off-road tyres from Continental, Extreme E racers are capable of climbing gradients of up to 130 percent. They can also dispatch the 0–62mph sprint in just 4.5 seconds, despite weighing 1,650kg.
About Extreme E
In essence, Extreme E is off-road equivalent to Formula E. It's a radical new racing series which will see electric off-roaders compete in extreme environments which have already been damaged by climate change and environmental issues.
Over the course of the five-race season, the Extreme E organisers hope to highlight the impact of climate change, while emphasising the importance of electric vehicles as a potential remedy to reducing our global carbon footprint.
As the Extreme E series is focussed on minimising emissions, it won't be open to spectators, so to cut out the carbon that would be emitted by those travelling to the event. Instead, fans are asked to follow the series on live TV broadcasts and social media.
Will you be watching Extreme E? Let us know in the comments section below…