Semiconductor shortage continues to hit car production
UK factories turned out 54,962 cars in May, well up on the same month in pandemic-ravaged 2020, but way down on previous Mays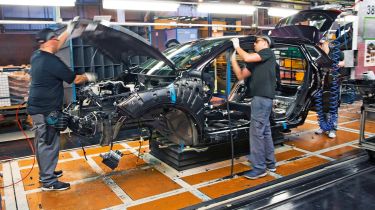 The shaky state of the UK's car manufacturing industry has been highlighted by the latest production figures, which show just under 55,000 new cars were built here last month.
Manufacturing was up vastly on the same month last year, when Covid closed almost everything and just 5,314 cars were built, but it is still less than half what it was in May 2019, when 116,035 when new cars were made here according to the Society of Motor Manufacturers and Traders. Over a five-year average, production was down 36.3 per cent for January to May 2021.
The SMMT has cited the global semiconductor crisis as a key reason for this relative decline in car manufacturing. Semiconductors are vital for modern cars, running everything from safety to infotainment systems, but a perfect storm has seen a chip shortage hit car makers worse than most businesses.
Automotive firms play third fiddle to the semiconductor-hungry IT and smartphone industries, who have seen vastly increased demand as huge swathes of populations have sought entertainment and work devices during various national lockdowns across the world. The electronics industries tend to be larger customers and are therefore often higher priorities for semiconductor firms, who have themselves been hit by pandemic pressures.
Whatever shortages there may be, and whatever their root causes, the UK's car-manufacturing trends reflect wider fashions, with 19.2 per cent of all the cars built here in May being electric or hybrid, though just one in 16 cars were a pure EV. Most of the cars made here were exported, with just 16.4 per cent built for the domestic market, and 56 per cent of all cars destined for foreign shores were heading to EU countries.
SMMT chief executive Mike Hawes highlighted May 2021's figures "look inflated" compared to last year's, warning that car production was "massively challenged here and abroad by global supply shortages, particularly semiconductors." Hawes also called for greater investment in charging infrastructure, as well as automotive research and development.
Now check out the latest list of the best selling cars in the UK...