New Electric Avenue exhibition to debut at 2021 Goodwood Festival of Speed
The new Electric Avenue will be a hub for all things electric at this year's Goodwood Festival of Speed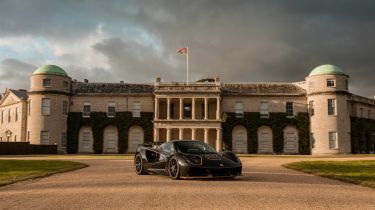 The Goodwood Festival of Speed is set to unveil a new attraction for 2021, dedicated to the fast-growing area of electric vehicles. Titled 'Electric Avenue - The Road to 2030', the new space will showcase new electric cars - from city cars to battery-powered exotica - and Goodwood has enlisted industry specialists to address consumer questions.
The midsummer event at Goodwood has long been a place where iconic race cars rub shoulders with the newest road-going supercars. This year, however, organisers have recognised a need to support the electric future - on the road, at least - by hosting the latest electric cars in a specialised EV space.
The hope is that the Electric Avenue will promote electric vehicles to Goodwood-goers, at a time when more and more manufacturers are revealing plans to ditch combustion power by the end of the decade. The UK government has already announced that the sale of new pure-petrol or diesel-powered cars will be outlawed in 2030, and is targeting net zero emissions for the whole of the UK by 2050. 
The migration to electric cars is thus drawing closer, and many consumers remain apprehensive about the realities of running costs, reliability and range. The Electric Avenue is an exhibition where festival attendees should be able to inspect the latest electric cars up close, and ask questions of the experts. 
The Duke of Richmond said of the new initiative: "The Festival of Speed has always taken a defining position on cutting-edge technology and the future of mobility, and we have long championed electric, connected and autonomous vehicles. I am delighted that 'Electric Avenue - The Road to 2030' presented by Sky Zero will enable visitors to explore the future of mobility for themselves."
The Electric Avenue area will be open for visits all four days of this year's Festival of Speed, of which there are only a limited number of tickets remaining.
Click here for our list of the best electric cars on sale right now...