New hot Volkswagen ID. Life GTX variant on the cards
The new Volkswagen ID. Life GTX electric car is set to arrive in 2025, and our exclusive image previews how it could look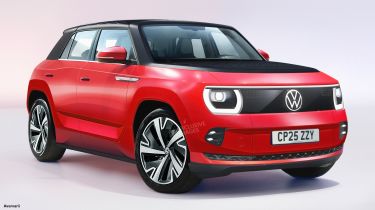 Hot on the heels of Volkswagen's ID. Life will be a performance-focused GTX model, according to the brand's sales and marketing boss, Klaus Zellmer.
The VW ID. Life GTX is set to arrive soon after the eventual production version of VW's baby EV crossover in 2025, bringing more power and a sportier chassis set-up, along with a host of cosmetic upgrades, and our exclusive image previews how it could look.
Zellmer told Auto Express at the Munich Motor Show that the GTX name is set to be attached to every ID. model in the German brand's line-up: "GTX, in the long run, is something that we want for every derivative," he said. "So GTX is also something that we want to have, potentially, for the ID. Life".
This plan is integral to a new range structure that VW is set to adopt with its future EVs. The idea is that instead of offering cars with a wide variety of specifications from the factory, the range will be more uniform, with customers purchasing a 'base' car and enabling options through over-the-air software updates. This will simplify each model line and reduce manufacturing costs – and with electric powertrains, the digital engineering possibilities extend further still.
A software update could in the future unlock more power from the electric motor, as well as additional range from the battery, a strategy that could potentially be used to create future GTX variants in some sectors of the market.
However, it remains to be seen whether the powertrain set-up of the ID. Life production car will be adequate to bring the required level of performance a GTX-badged model will need with software optimisation alone.
Zellmer said: "We will have to see whether the battery technology will be able to fulfil the GTX performance promise. If it does, then we will stay with limited [powertrain] variants. If it doesn't, then we will have to adjust accordingly, with a bigger battery and a different motor."
Motor calibration and software tweaks could also potentially improve the ID. Life GTX's handling, with retuned torque vectoring and active torque split capabilities likely to unlock a new dynamic personality as it has done in VW's already-launched ID.4 GTX and ID.5 GTX electric performance SUVs. Those cars' clever Vehicle Dynamics Manager integrated stability control system will also probably feature to boost agility.
In concept form the ID. Life has a 228bhp electric motor, front-wheel drive and a claimed 248-mile range. With its extra performance potential, expect a GTX variant to deliver a more modest figure.
The brand is targeting a starting price of around £17,000 for the ID. Life, but with the GTX bookending the line-up it is likely to be the priciest variant and could cost more than £25,000.
Now read about the Volkswagen ID.3 GTX electric hot hatchback which has been confirmed for production...