Climate campaigners block M25 in protest
Protestors from environmentalist group Insulate Britain block five junctions of London's orbital motorway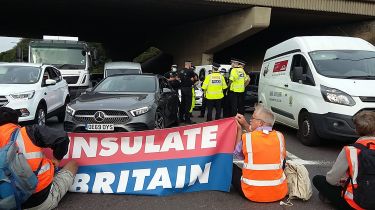 Climate change campaigners set up roadblocks at multiple junctions of the M25 in what has been described as "outrageous behaviour".
Protest group Insulate Britain implemented blockages at junctions three, six, 14, 20 and 31 of London's orbital motorway, causing tailbacks in four separate counties. The group admitted it was "causing disruption to ordinary people", claiming that it was doing so to "get the Government's attention".
Videos on social media showed cars blasting their horns at protestors sitting in the road, with some drivers getting out of their vehicles to confront the campaigners and attempt to drag them out of the way. Police have since arrived at the various scenes and arrested more than 30 people.
Insulate Britain said its actions were "a legal and proportional response to our Government's inactivity". This is in spite of the UK having set a target of net zero-carbon emissions by 2050, as well as the Highways Act 1980 stating: "If a person, without lawful authority or excuse, in any way wilfully obstructs the free passage along a highway he is guilty of an offence".
Hugh Bladon, a founding member of the Alliance of British Drivers, told Auto Express: "Why should any group be allowed to close roads off? It's outrageous behaviour and should not be tolerated."
Bladon pointed out the delays the blockages would cause to those trying to reach hospitals or places of work, adding: "We're too soft with these people. I have no problem with people having a little march… but provided they don't get in anybody's way and stop people going about their lawful business. It's just not tolerable and I don't know why we go along with it."
Do you agree with the protestors? Let us know in the comments below...