Insulate Britain campaigners sent to prison following motorway protests
Nine individuals imprisoned for between three and six months, as High Court clamps down on injunction breaches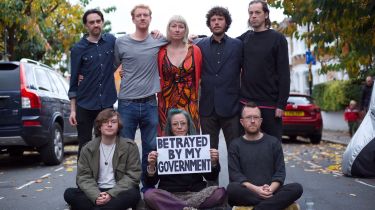 The High Court has handed out prison sentences of up to six months for nine Insulate Britain protestors who ignored injunctions preventing them from blockading roads.
The nine who were sentenced faced immediate custodial sentences, in what has been seen as a strong message from the courts that similarly disruptive acts will not be tolerated.
The campaign group responded to the jail sentences by reading out a letter on the steps of the High Court accusing the government of cowardice for choosing to "lock up pensioners rather than insulating their homes".
The group also called for more volunteers to join the movement, saying: "A few hundred people captured the country's attention for months. Think what 1000 people can achieve? You have a choice. To act, to come and join us help change the tide of history, or to be a bystander and be complicit in enabling genocide."
The sentences come after the group continued its roadblock campaign despite fresh injunctions being taken out, with around 60 protestors disrupting traffic in London, Birmingham and Manchester on Tuesday 2 November.
The latest interim injunction banned "activities that obstruct traffic and prevent access to 4,300 miles of motorways and major A roads" and outlawed "activities which cause damage to the road surface and infrastructure". The latter includes examples such as protestors gluing themselves to roads.
Nevertheless, the latest round of protests all took place on this network, with the M25, M56 and A4400 affected. Previous Insulate Britain roadblocks have targeted the A40 in West London, a roundabout in Dartford, main roads in and out of the City of London, Dover docks and the Blackwall Tunnel, as well as the M1 and M4 motorways in and around London.
Transport Secretary Grant Shapps accused the group of "risking lives" and "ruining journeys". London Mayor Sadiq Khan, meanwhile, said housing insulation was an "important cause", but that the methods Insulate Britain was using would only drive people away. He called on the group to stop its protests.
Do the police have powers to remove protesters?
At present, wilfully obstructing a public highway is an offence under the Highways Act 1980. Those found guilty can be given a maximum fine of £1,000.
Kent Police told Auto Express that when dealing with a human roadblock, officers will speak to protestors and determine how long they aim to continue. If disruption is planned for a few minutes, the police may wait it out, but longer protests have to be dealt with more actively.
The police have the power to remove protestors from the road and arrest them, but the challenge lies in ensuring no one is injured in the process. This is especially difficult when protestors physically attach themselves to surfaces or objects using glue, for example.
Home Secretary Priti Patel recently announced plans for a new "public nuisance" bill aimed at tackling protestors who target roads.
Do you agree with the protestors? Let us know in the comments below...