New 'Chameleon' kerbside electric car charger revealed by Connected Kerb
The Connected Kerb 'Chameleon' charger is one of the smallest dual-chargers on the market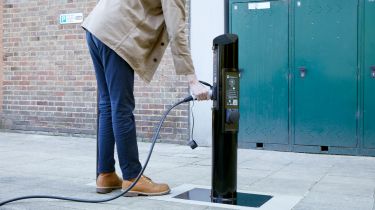 Connected Kerb has unveiled a new kerbside electric car charger. Dubbed the Chameleon and standing just under a metre in height, it's one of the smallest dual-chargers on the market.
The Chameleon is a solution for EV drivers who don't have driveways, its maker says. Designed and manufactured in the UK, it's primarily made from recycled steel. Connected Kerb claims the Chameleon is also accessible for disabled drivers, including those in wheelchairs, and does not require planning permission to install.
Furthermore, the charger supports what Connected Kerb calls "future technologies", including 5G and air quality sensors. The Chameleon follows the same modular design of all other Connected Kerb units and, as such, reduces the need for large ground excavation in the installation process.
Chris Pateman-Jones, CEO of Connected Kerb, said: "We're committed to facilitating the widespread transition to electric vehicles for users who cannot charge their vehicle at home.
"Our latest charger design - the Chameleon - is a real game-changer in the EV infrastructure market. To pack so much technology into a small post with a dual socket is no mean feat and the solution is a credit to the innovation of the Connected Kerb team."
Click here for our list of the best electric cars on sale right now...