EV home charging a third cheaper under Energy Price Guarantee
Government's plan will save electric car owners an average of £11.58 on a home charge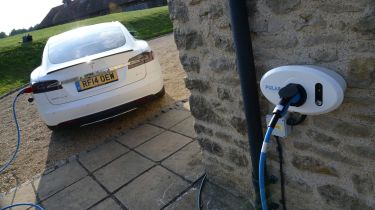 Charging an electric car at home will be a third cheaper than it would have been thanks to the Government's Energy Price Guarantee.
Analysis by the RAC shows that the 34p-per-kWh guarantee, announced by the Prime Minister, placed the cost of home charging a typical 64kWh family-sized electric car at £22.22 from 1 October.
This means a rise of £3.85 over current prices, although represents a saving of £11.58 against the £33.80 figure that would have been introduced by Ofgem's latest price cap rise without Government intervention.
EV drivers are still advised to contact their energy providers, however, to confirm the exact price of their new tariff.
The RAC's EV spokesman Simon Williams said: "It remains to be seen what impact the Government's new package of help will have on [public] chargepoint operators and the prices they set drivers, but we remain concerned about the rising wholesale costs of energy that may force some to increase their prices in the coming months.
"There's the potential for the Government's net-zero transport ambitions to be derailed if higher electricity prices put drivers off from switching to an electric model, which is why we have called on the new transport secretary to cut the 20 per cent VAT rate on public chargepoints to match the five per cent charged on domestic electricity."
The news comes as automotive experts in Germany warned that the future of the electric car may be threatened by rising energy prices driving up raw material costs and impacting availability, with parts shortages and a reduction in people's incomes also playing a role.
Now read about the best wallbox chargers...