ZEV mandate confirms EV sales targets for car makers
EV sales targets will apply from 2024 to the 2035 petrol and diesel ban, but there's a 'trading scheme' to help out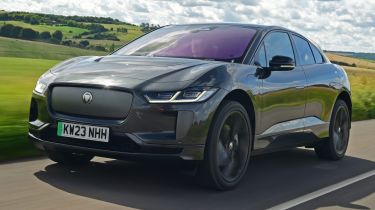 Long-awaited details of the government's Zero Emissions Vehicle mandate have been announced today, confirming the targets for electric car sales that manufacturers must meet between 2024 and 2035.
Things kick off in January next year, and in the first 12 months, car makers will be required to sell enough electric vehicles to account for 22 per cent of their total sales volumes. This percentage will rise in stages to 80 per cent of volume by 2030 and 100 per cent by 2035. That's also the deadline by which the sale of new internal combustion-engined (ICE) vehicles will be outlawed, after Rishi Sunak's government last week pushed back the previously announced 2030 date for the UK's ban, bringing us into line with other significant global markets including the European Union.
The UK's new ZEV mandate also includes what the government calls a 'trading scheme', enabling car makers to 'bank compliance' in years they may exceed the target for use in future years. They can also trade credit with manufacturers that may have failed to meet their own target in any given year - car makers can 'borrow' up to 75 per cent of their annual target in 2024, reducing to 25 per cent in 2026.
The car industry has welcomed the clarity, although it comes late in the day with the new rules set to apply from this coming January. However, it has also renewed calls for the government to help incentivise EV sales using taxpayers cash to subsidise prices.
"With less than 100 days to go, manufacturers finally have clarity on what they are required to sell next year and up to 2030." says the chief executive of the Society of Motor Manufacturers and Traders, Mike Hawes. "Manufacturers offer a vast range of zero-emission vehicles, but demand must also match supply. We need a buoyant market that delivers fleet renewal at scale, ensures a vibrant used EV market and gives consumers confidence. This means an attractive package of fiscal and other incentives, mandated infrastructure targets and a consistent message that encourages drivers to switch now."
Ford UK's chair Lisa Brankin said she welcomed the fact that the DfT had listened to the company's input when it came to shaping the ZEV mandate, but pointed to the threat of tariffs adding more to the cost of EVs for consumers under imminent 'rules of origin' rules that car makers on both sides of the channel want the European Commission and British government to renegotiate.
"With a potential 10 per cent tariff on European-built electric vehicles from January under the UK-EU trade deal, more needs to be done to make the switch easier for customers. Tariffs will hit both UK and EU manufacturers so it is vital that both sides come to the table to agree a solution," she said.
Click here for more on the UK's planned 2035 ban on new petrol and diesel cars sales...