Falling rapid charger prices put EVs in the clear vs petrol in the car running costs race
It's now more expensive to drive petrol than electric, even when using ultra-rapid chargers at peak time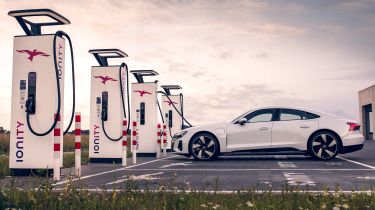 The average cost of charging an electric car at one of Britain's ultra-rapid chargers at peak times has fallen to its lowest point this year, according to the AA EV Recharge Report.
The latest analysis took an average of pay-as-you-go (PAYG) prices across the UK on 28 September 2023. It compared cost-per-mile figures after adding 32 litres to the tank of a 1.2-litre petrol Corsa - good for 335 miles using the combined WLTP consumption figure of 47.9mpg - and adding 80 per cent charge to the battery of a Corsa Electric - which equates to 178 miles of range.
The petrol car's fuel cost-per-mile comes out at 14.49p, while the Corsa Electric's cost-per mile using the fastest 'ultra-rapid' charger speeds of over 101kW at peak times is 13.71p. It's just 11.91p off-peak. This reflects a small but potentially significant 3p per kWh drop in the price of peak and off-peak electricity at the most powerful charges to 61p and 53p respectively. It marks the point where it's once again cheaper to charge on the ultra-rapid network than filling up an equivalent car with petrol.
Unfortunately, if you're still on a flat rate payment scheme, these are currently lagging behind the PAYG rates, as prices haven't moved since August. That means you'll be paying an average of 71p per kWh for the highest charging speeds, which equates to 15.96p per mile in the Corsa Electric.
Likewise, there's been no movement in average prices for PAYG rates at rapid/fast chargers offering between 22-100kW outputs, which are stuck at 79p and 75p per kWh for peak and off-peak rates, respectively, reflecting a Corsa Electric cost per mile of up to 17.75p. The average cost of peak-rate PAYG charging at slow public chargers (typically the lamp-post type) has actually risen by 4p per kWh, but flat rates and domestic charging prices were unmoved in September. The AA currently calculates the Corsa Electric's energy cost-per-mile figure at just 6.74p if you're able to charge exclusively at home on an average domestic tariff.
"A further reduction in the cost of ultra-rapid charging is brilliant to see and shows that chargepoint operators can act quickly to pass on cost savings to drivers," says AA spokesman Edmund King. "Ultra-rapid charging can be cheaper by the mile than petrol and gives more food for thought to those who are considering making the swap from combustion cars to EVs. 
Click here for our list of the best electric cars on sale right now...