Nissan's Golf by 2014
A new Golf-rivalling Nissan hatchback is set to be designed, built and engineered in the UK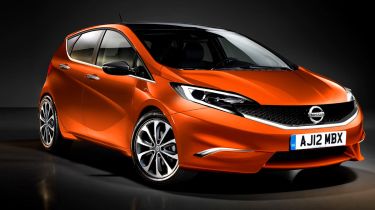 Nissan is building on its extraordinary success with the Juke and Qashqai crossovers by returning to the family hatch mainstream in 2014. A stylish new VW Golf rival is already deep into development – and it will be designed, engineered and built here in the UK.
Nissan's executive vice president of product planning, Andy Palmer, told Auto Express: "There is a gap in our range and the idea of the new car is to keep our customers within the brand.
"This will catch buyers moving up from a Juke, who can then buy a Qashqai if they need more space. Eventually, the idea is to get them into an Infiniti."
The name is yet to be revealed, but Palmer dropped a series of hints. "It won't use the Almera name, you can be sure of that," he said. "But it will be familiar."
As our exclusive images show, the Golf rival will feature design cues from the Invitation concept, including the sharp headlights, the 'squash line' crease in the flanks and the curvy tail-lights.
For the interior, the focus will be on class-leading quality. Nissan admits that this is the only area that lets the current Qashqai down, and it's not intending to make the same mistake again.
There are no plans to produce a costly hybrid, either; all versions will be petrol or diesel-powered. The range is likely to kick off with a new 1.2-litre turbo petrol with 113bhp and 190Nm of torque, capable of returning more than 50mpg. The biggest seller, though, will be a 1.6 diesel with around 128bhp, sub-100g/km CO2 emissions and 65mpg economy.
Hot hatch fans are also in for a treat. When we asked Palmer if a hot Nismo version was planned, he told us: "It would be a perfect candidate, don't you think?"
With around 200bhp from a 1.6-litre turbocharged engine, the car won't have the firepower to challenge the new Ford Focus ST or Vauxhall Astra VXR, but a 0-62mph time of around seven seconds should put it close to the VW Golf GTI. An even hotter RS model is expected to follow, too, with around 230bhp.
The announcement that this car will be built in the UK is yet another success story for the Sunderland plant.
By 2014, the Leaf, Juke, Qashqai and all-new hatch will be built there, while a separate battery plant will make up to 60,000 battery packs per year. The workforce will also hit a record high of 6,225 employees.