Next Nissan GT-R to get 592bhp hybrid
The new Nissan GT-R will be offered with hybrid power for the first time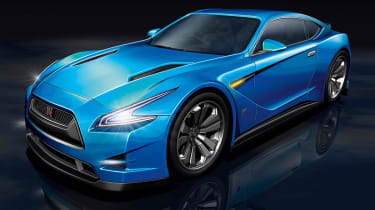 Nissan insiders have told Auto Express that the next-generation GT-R supercar, due in 2017, will be a hybrid. And it'll get a bold new look and major engineering changes to keep it at the cutting edge of performance.
Our exclusive image shows what the next GT-R could look like. While the basic proportions remain the same, Nissan will add an improved aerodynamics package to boost high-speed stability, along with futuristic boomerang headlights.
But the biggest changes will be to the powertrain. The current GT-R is equipped with a 542bhp 3.8-litre twin-turbo V6 and a six-speed dual-clutch transmission, which allows it to accelerate from 0-62mph in only 2.8 seconds.
The problem is the car's 275g/km CO2 emissions, which will have to be significantly reduced to comply with strict US and EU regulations.
According to our sources, one option is the 592bhp hybrid drivetrain that featured in the Infiniti Essence concept at the 2009 Geneva Motor Show. It used a 3.7-litre V6 with direct fuel injection and a pair of turbochargers, with a 158bhp electric motor positioned between the engine and transmission. Mounted in the boot was a lightweight lithium-ion battery pack.
But this would add weight to a car that is already criticised for being heavy, so Nissan is targeting a weight reduction of around 180kg over the current car. Expect this to be achieved with the use of more carbon fibre.
In the meantime, Nissan's engineers are working to reduce emissions in the current GT-R, looking at adding stop-start and cylinder deactivation.
But while the next GT-R is coming, we can look forward to two more revisions of the current R35 model to "take the car up to 2017", according to GT-R chief engineer Kazutoshi Mizuno.