Nissan's new London Taxi project postponed
Nissan has suspended development of its new London black cab, because it won't meet standards for the planned Ultra-Low Emission Zone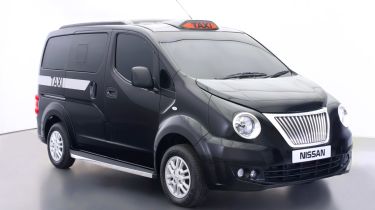 Nissan's controversial design for a new black cab for London appears to be on hold and will remain so unless the proposed Ultra Low Emission Zone in London is not given the go ahead. The taxi design, which features a petrol engine, can't meet the tough vehicle emissions standards for central London that will be brought in if the emissions zone is signed off.
The news comes as a blow for plans to replace the popular but ageing current black cab, and it appears that London Mayor Boris Johnson's own proposal to make all London taxis zero-emissions capable by 2018 is to blame. Nissan's design, based on its NV200 van-based MPV, is powered by a 1.6-litre petrol engine mated to a CVT gearbox and the powertain can't be adapted meet the proposed emissions standards.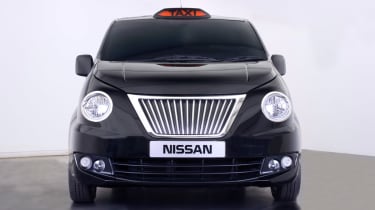 Although the Nissan taxi claims to offer considerably better fuel economy and emissions than the 32mpg and 233g/km of CO2 the current TX4 diesel black cab manages, it seems the firm would have to completely re-engineer the vehicle if the proposed zero-emission zones come into effect.
The proposals, drawn up by London Mayor Boris Johnson, include charging owners of old diesel cars up to £20 every time they drive into the capital. The Mayor also hopes to have 7,000 zero-emissions capable taxis on London streets by 2020.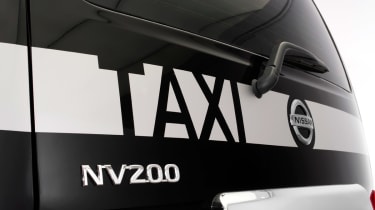 James Wright, Managing Director of Nissan Motor GB says that the firm has "suspended the project until the regulation of the market has been decided". The NV200 taxi is already in service in cities such as New York and Barcelona, but a raft of styling and engineering changes were being made for the London version.
The decision to completely postpone the project until the ULEZ is confirmed could be seen as unusual, as Nissan has already developed and launched an electric version of the car, called the e-NV200, which would presumably meet these emissions standards.
What do you think of Nissan's new black cab design? Let us know in the comments section below...