"It's going to be a great year for real driver's cars"
Once restrictions are lifted, editor-in-chief Steve Fowler thinks 2021 is going to be a great year for getting out on the road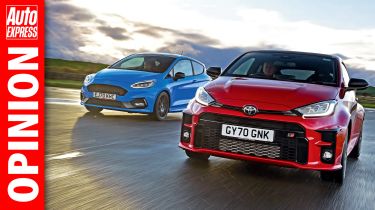 Fingers crossed that it won't be long before restrictions are lifted and we can get out there driving for fun again – boy, have I missed it.
But whatever reason you have for getting out on the road, we're here to help you get the most from your time behind the wheel. We want you to have more fun, while staying safe and also potentially saving money.
That's why we've enlisted the help of one of the UK's best drivers and a road tester of real repute – our very own Steve Sutcliffe.
Nobody knows more about squeezing the last bit of enjoyment out of any car than Steve. And he's combined that with years of knowledge on how to get the most out of different kinds of cars and on different roads. Drive well and we all know how rewarding that can be – but it can also save you cash, as Steve reveals in this week's issue of Auto Express.
And as you can see from the picture above, 2021 is going to be a great year for real driver's cars – and ones that don't cost mega money. We've pitted the new Toyota GR Yaris – a car with real rally pedigree – against one of our favourite fun cars, the Ford Fiesta ST.
The return of the Renault 5 is worth celebrating, too, especially with looks that hark back to Renault 5 Turbos; cars that existed purely to homologate Renault's rally cars.
Groupe Renault's reboot also gives a shot in the arm to Alpine with the promise of at least two new models for this reborn performance brand – and a technical collaboration with Lotus that will benefit both. If that doesn't excite keen drivers, I don't know what will.
Another car that's given us a surprise with how much fun it is to drive is the new Hyundai Tucson. Yes, it's a sizeable hybrid SUV, but it's been developed under the watchful gaze of Albert Biermann, the man whose hard work with Hyundai's hot N brand has been so impressive. We're going to see a lot of change in the coming years, but it's great to report that the driver's car is here to stay.
Click here to buy your copy of Auto Express online right now...