Car industry damage caused by the global chip shortage could have been avoided
Andy Palmer thinks that the problems caused for car makers by the semi-conductor chip shortage could be a self-inflicted wound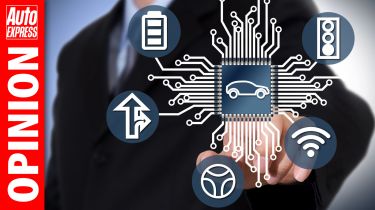 The timing of the global semi-conductor chip shortage could not be worse. At a time of huge upheaval in the auto industry, not to mention contending with a devastating pandemic, the last thing needed was disruption to the supply chain.
The situation we find ourselves in has led to multiple major manufacturers having to scale back or, in some cases, stop their entire production. Could this have been avoided? Some will say that the sector could have foreseen this challenge and taken steps to mitigate against it. It's been apparent for some time that smartphone companies, such as Apple and Samsung, are manufacturing at huge volumes and would eventually become a formidable competitor to the automakers.
Then we must consider the complexity of technology required in a modern car. When I first started out in my career as an automotive engineer more than four decades ago, cars were about as technologically complex as a bog-standard calculator. Now, they contain around 100 million lines of coding, as both infotainment and driving systems rely heavily on complex software to keep the show on the road. Literally.
These factors combined mean that in many ways the chip shortage was unavoidable, but not unmanageable. Questions should rightly be asked of the resilience and flexibility of both the supply chains and workforce models of the manufacturers being most impacted by the chip shortage. The global-wide shutdowns due to COVID-19 have highlighted the cracks in the chain that will no doubt be addressed.
While nobody could have forecast the onset of the pandemic, there has clearly been an inaccurate forecasting of demand. Despite macro-economic uncertainties because of the pandemic, the economic outlook at a household level is much more positive. With holidays out of the question, commuting no longer a drain on the wallet and very little else to spend money on, purchasing a new car became a logical move for many consumers. This caused a spike in demand at a time when supply of the semi-conductor chips was halted. It doesn't take a Nobel Prize for economics to understand the consequences of that combination.
Ultimately, the industry could, and perhaps should, have avoided the extent of the impact the chip shortage has had on car production – but it would be unfair to say it's a self-inflicted wound. No doubt lessons will have been learned in boardrooms around the world as executives seek to prevent this kind of volatility and variability in the supply chain causing as much disruption as it has over the past 12 months.
Click here to read more from Andy Palmer...