'Sustainability was well and truly on the agenda at Munich'
Is there such a thing as complete carbon neutrality? Editor-in-chief Steve Fowler discussed the issue with company bosses at the 2021 Munich Motor Show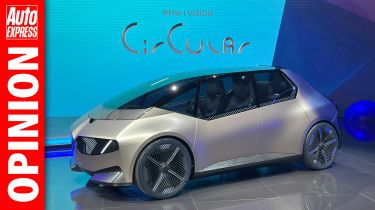 Ten years ago this week, I started my Auto Express career wandering around the Frankfurt motor show looking at cars like the BMW i3 Concept and the then-new Volkswagen up!.
Now in 2021 (and over 500 issues of Auto Express later) I'm just back from the Munich show, where the i3 still looks as good today as it did then, but the up!'s days are numbered.
Back in 2011, the i3 was one of very few electric cars at the Frankfurt show. This year in Munich, there were very few cars that weren't electric.
However, electrification was only one battleground in Munich; sustainability was also well and truly on the agenda. It was the theme for BMW's stand – and the impressive free display in the city centre (British cities take note) – with the i Vision Circular concept, so called due to its recyclability referencing the circular economy.
Carbon neutrality was the buzz phrase, but questions remain over what exactly it constitutes. Is there such a thing as complete carbon neutrality? Does offsetting count towards carbon neutrality? It's one point I discussed with BMW board member Pieter Nota, who reassured me that, "It's what's expected from BMW. We're not a brand to tick boxes – we need to outperform."
Hyundai, revealing details of its hydrogen plans in Munich, was really walking the sustainability walk. I chatted to Hyundai Europe boss Michael Cole and Chief Marketing Office Thomas Schemera, who convinced me about their brand's plans to be truly carbon neutral by 2045. We sat in chairs made from recycled materials on a stand made from rented scaffolding and with a floor made from recycled rubber. There were plenty of other companies in Munich who hadn't thought that hard.
Over the past 10 years it's been a real privilege to be able to report on an industry going through a greater period of change than in the previous 100. I can't wait for the next 10, because I have the feeling that we ain't seen nothing yet!
Do you think offsetting should count towards carbon neutrality? Let us know your thoughts in the comments section...