"The network of chargepoints is nowhere near keeping up with the sales of electric cars"
Mike Rutherford thinks car dealers are perfectly placed to solve the UK's problem of a lack of public chargepoints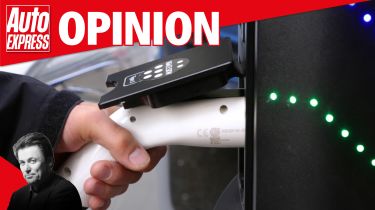 The motor industry establishment officially calls them 'standard' or 'slow/fast' public chargepoints. Exciting they ain't. But they're vital in car parks, on streets, at supermarkets and elsewhere. These are the humble machines and the modest places that really could make or break electric cars for the masses. But we're not seeing enough of such chargers. They're needed in far greater numbers... sharpish.
Fact is, the network of standard public chargepoints in the UK is nowhere near keeping up with the rise in sales of electric or electrified vehicles. Therefore the 'system' is less able to cope today than, say, a year ago. Shockingly, in 2021 there are far fewer slow/fast chargers per plug-in vehicle than there were in 2020.
Over most of southern England and much of the north, almost 50 plug-in vehicles are expected to share just one public charge point. Britain's ratio of plug-in cars to standard public chargers has lately 'deteriorated' so alarmingly that of the leading EV markets in Europe and Asia, the UK now ranks as 'one of the worst'. These aren't my facts, figures and direct quotes. They're from a fed-up Society of Motor Manufacturers and Traders (SMMT), which is right to raise the problem, and point accusing fingers at our Government, plus the sleepy vehicle-charging industry. Both are failing to keep pace with plug-in car sales volumes, which are in rude health.
But others have to accept their share of the blame for the imbalance, too, including car makers and frontline retailers (two separate but related entrepreneurial industries represented by the SMMT). They both have a deep interest in the vehicle-charging business and a duty to ensure it is fit for purpose.
So, for starters, all of the colossal, established car-manufacturing corporations who have billions swilling around need to put more time, effort and financial resource into the charging industry. At the same time they can aid, abet and order their appointed dealers to devote less space to parking up on forecourts new and second-hand cars that often languish for weeks. In turn, dedicate more bays to drivers needing to recharge their pure-electric or other plug-in vehicles daily, weekly, whatever. 
Franchised (and non-franchised, come to that) motor traders in Britain collectively sit on countless square miles of prime, easy-access real estate that's not fully exploited because it's used largely for vehicle parking and storage. Go store them somewhere more appropriate, less expensive, I say. 'Drive-In & Charge-Up' sections of dealer premises are my idea of the future. There are thousands of dealers out there and, between them, they're perfectly placed to become Britain's largest network of public charging points, complete with comfy seats, hot drinks and WiFi inside adjacent, welcoming showrooms where savvy salesman could have a field day with their captive audience of plugged-in drivers/potential future customers.
What could possibly be more fitting, logical and game-changing than this: drivers regularly charging their cars at garages that sell, lease, buy, service and repair them.
Click here for our list of the best electric cars on sale right now...