"When it comes to luxury cars, British brands do it best"
Having spent some time with Mercedes' latest luxury models, editor-in-chief Steve Fowler thinks the German brand has fallen a long way behind the likes of Bentley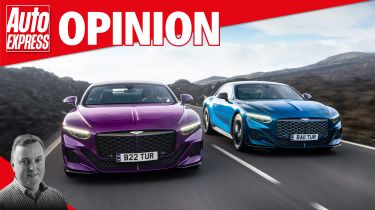 Dashing back from a not-so-sunny California this week, where I saw the stunning Mercedes Vision One-Eleven concept unveiled, my next stop was the bizarrely much sunnier Hatfield, just off the A1.
Having had Mercedes try its hardest to reinforce that it was one of the world's leading luxury brands – referencing Chanel, Hermès and Louis Vuitton in the process – arriving at the opening of the new H.R. Owen Bentley showroom was a proud reminder that when it comes to luxury cars, British brands do it best.
You'll read more about the new Mercedes models I drove in the US in the coming weeks, but spending time in them highlighted how far the German brand has fallen behind the likes of Bentley. The new S-Class, for example, leads on tech, but it's lost out on luxury. And one very senior Mercedes executive even admitted that the previous generation – with its delightfully posh switchgear – felt more upmarket than the current car.
How Bentley is blending the old and new in the most luxurious fashion – including the new Batur, and its latest retailer with a stunning, hi-tech Mulliner Commissioning Studio – is a lesson to other luxury brands, even those outside automotive.
However the British influence on the tech under the Vision One-Eleven was huge. It featured new electric 'engines' developed by UK firm YASA – the brainchild of Tim Woolmer and his team based in Oxford.
This game-changing tech means lighter, smaller, more powerful motors; it's no wonder Lamborghini and Ferrari are customers. And it's no surprise that Mercedes liked what YASA was doing so much, it bought the company.
So with YASA, Mercedes High-Performance Powertrains and the Formula One team, there are now three UK-based businesses doing an increasing amount of R&D work for the German firm. It's great to see there are still plenty of reasons to be proud of the UK car industry.
Do you agree with Steve? Let us know your thoughts in the comments section...