Mercedes Vision One-Eleven concept sets the stage for 2025 AMG production model
Mercedes' stunning new concept points to a 2025 Mercedes-AMG sports car using British tech
Mercedes' latest Vision concept car, the fifth in the series, harks back to the sixties and seventies with a modern take on the brand's famous gull-wing C111 experimental concepts.
Like those cars, the new Vision One-Eleven is more about the technology under the skin than design, being a showcase for new EV powertrain systems developed by British company YASA, which is now owned by Mercedes-Benz.
The One-Eleven was revealed at an exclusive event at Mercedes' design HQ in California, alongside a C111 – both in striking orange paintwork and with gull-wing doors lifting towards the sky. 
Yet although the car was driven on stage by Mercedes chief design officer Gorden Wagener, the star of the show was YASA's founder Tim Woolmer and his company's compact axiel-flux electric motors.
These new high-powered, light-weight motors not only feature in the One-Eleven concept, but are also likely to power a new, all-electric Mercedes-AMG sports car set to be unveiled in 2025. Although that car is unlikely to take cues from the design of the concept, the smart motors and the One-Eleven's battery pack with high-performance liquid-cooled cylindrical cells are expected to make production.
The YASA motors are about a third of the size of traditional radial-flux motors, weigh less and produce more power and torque. With further development, they could be housed within the wheels of the upcoming sports car, while Mercedes' manufacturing expertise is likely to bring the price down, too.
Tim Woolmer, from the Oxford-based company, said, "Axial-flux motors are significantly lighter and more compact, yet more powerful than comparable radial-flux motors currently used in 99 percent of all electric cars. Compared to radial-flux motors, they have considerably higher and more enduring power reserves, which delivers a whole new level of performance."
The advanced battery pack, featuring high-performance liquid-cooled cylindrical cells with a novel cell chemistry, is being worked on by the motorsport experts from Mercedes-AMG High Performance Powertrain in Brixworth, makers of the powertrains for the Mercedes F1 team.
While the exterior design of the Vision One-Eleven is unlikely to influence a future production car, elements of the interior will. It may not be the striking silver leather-clad lounge chairs, but Mercedes designers also presented an interior buck with an 'experimental spatial user interface' using augmented reality (AR).
Sitting inside the interior mock-up and donning a Magic Leap 2 augmented reality headset, the entire car becomes the user interface.
Information can be virtually attached to the dashboard and placed in the environment inside and outside the car showing 3D icons and directions on the road ahead. Actual controls around the dashboard and on the steering wheel are also augmented with additional information overlaid on buttons or switches by AR.
Talking about the exterior design, Gorden Wagener said, "Design icons like the Type 300 SL and C 111 – both with gullwing doors – are part of our DNA. These legendary vehicles were major inspirations for the iconic design of the Mercedes-Benz Vision One-Eleven.
"Our all-electric vision show car is the modern-day interpretation of the C 111, which was avant-garde at the time."
Partnership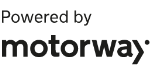 Need to sell your car?
Find your best offer from over 5,000+ dealers. It's that easy.
The concept is no less avant-garde, featuring Mercedes 'one-bow' design described by Wagener as "super-simple, but super-sexy" it has no lines on it.
The low-slung front end features a digital interpretation of the C111's dark, wide grille with 3D pixels creating circular lamps. The same retro-digital style is replicated at the back, which also features a clear cover to view a luggage bay featuring bespoke bags – produced, like the rest of the interior – using sustainable materials that are likely to find their way into 2025's new Mercedes-AMG sports car.
Q&A with Markus Schäfer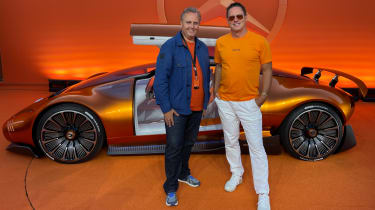 Markus Schäfer, Member of the Board of Management of Mercedes-Benz Group AG, Chief Technology Officer speaks to Auto Express
Q: What does the Vision One-Eleven tell us?
A: "We are shifting gears a little bit. If you see some of our other Vision concepts, they were more geared towards design and aesthetics. I would like to have to have another concept mixed with technology and innovation – I first started it with the EQXX as a complete tech program. Best case, the whole car goes into series production, but my minimum requirement is the components will go into series cars – that's exactly what's happening with the EQXX and I'm going to deliver the proof points, especially with the MMA platform. So now we're going to cover the performance side of the house."
Q: You set records for efficiency with the EQXX, will you set records with the tech in this car, too?
A: "Yes. That's the plan to deliver record with the orange car as well."
Q: What does this concept tell us about the AMG's 2025 all-electric sports car?
A: "If you look at the application for the YASA engine, you can have two, three, four YASAs in a vehicle. Let's say use three or four probably, you talk about high-end sports car, very authentic, really AMG-like sports car."
Q: Is being the quickest from 0-62mph still important for AMG?
A: "I think it doesn't make a difference if it's 1.9, 2.0 or 2.2 seconds – do you really feel the difference anymore? Maybe between 4 seconds or 3.5 and a 2.2, yeah, you would probably feel something. But can you really experience it day-to-day? When would you do that? So we're thinking about another format to show the performance of the car. It's a combination and charging is part of the equation in the future, really ultrafast charging, plus acceleration, plus torque, plus feel."
Q: How important are Mercedes' UK operations?
A: "YASA is like an extended R&D center for us, so we have three extended R&D centers now in the UK: we bought YASA, we're just growing HPP – High Performance Powertrains in Brixworth, and obviously Brackley with our Formula One team. I've shifted a lot of R&D work to HPP – they did the battery for the EQXX and they're working on other stuff and also YASA is working on secret future stuff in Oxford. We have brilliant people in the UK."
Click here for our list of electric cars with the longest range...