Deal of the Day: Jump into a top-spec Peugeot 3008 for 18 months for £241 a month
Grab a great deal on the outgoing 3008 - then trade up to a new one! That's our Deal of the day for October 18 2023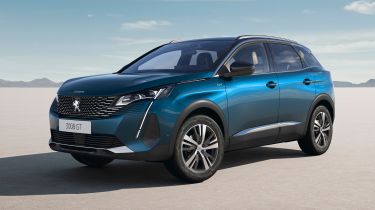 Short-term lease on a top-spec GT model
18-month deal
Automatic gearbox
A sure-fire sign that a new model is on the way is when the deals available on the outgoing model get even more tempting. Peugeot has already unveiled the latest incarnation of the 3008, but the current car is still one of the best on the market, blending French style (Peugeot calls it allure) with strong quality and decent driving dynamics.
The most recent upgrades gave the 3008 a nip and a tuck at the front end, while making an already appealing interior feel even more upmarket - it's probably the poshest cabin of all the mainstream-brand SUVs currently on sale.
Our deal of the day is for a short-term 18-month lease, giving you the option to jump into something else – possibly a new 3008, which is also available as a fully-electric E-3008 for the first time – in the middle of 2025.
This car, though, is a cracker in top-spec GT trim with the popular and sprightly 1.2-litre PureTech petrol engine mated to a slick-shifting automatic gearbox. Once you've paid a £2,892 initial deposit, you'll make 18 further payments of just £241.05 with leasing specialists DreamLease. That's slightly more than you can lease a Nissan Qashqai for, but in our view the 3008 - even the old model - is the slightly better car, especially in GT trim and with the auto box. Mileage on this deal is limited to 5,000 per year, but up it to 8,000 and the monthly rental rises to £259 with a £3,108 down payment. Either way, this is a lovely car to live with for 18 months.
As well as the smart interior and efficient engine, the 3008 is a comfortable car to drive with good visibility and a soft ride - it's spacious, too. In range-topping GT Trim the 3008 gets some sporty external add-ons with a similar interior makeover, plus plenty of advanced kit like full LED headlights, adaptive cruise control, a 10-inch HD touchscreen and 12-inch driver display, plus Peugeot's i-Cockpit with a small steering wheel and high-set instruments, although not all of our testers get on well with the driving position.
As with all our deals of the day, this is a great deal on a car we're happy to recommend and is chosen as a deal of the day by our experts. Terms and conditions will always apply, deals are subject to availability and prices are subject to change.
Get this Peugeot 3008 deal now at DreamLease or check-out yesterday's Deal of the Day here...