10. Peugeot 508 RXH
The Peugeot 508 RXH is a 508 estate with slight off-road styling tweaks and Peugeot's clever diesel hybrid powertrain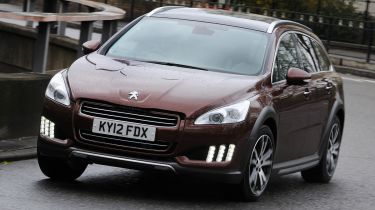 With big estate practicality, a plush cabin and an advanced diesel hybrid powertrain, the Peugeot 508 RXH is a unique proposition on today's market.
As well as the body protection add-ons giving it a tougher look than a standard 508, the RXH has some mechanical changes: it rides 50mm higher and has a 40mm wider track than the standard 508 SW estate, making it more capable off-road.
Yet despite this tough image, it's anything but utilitarian inside. A full-length panoramic sunroof gives a spectacular view out, while the gorgeously detailed light fittings and hi-tech head-up display provide the cabin with a very smart, modern feel. However, close scrutiny of the Peugeot's fit and finish leaves you with lingering doubts about build quality.
Our test model already had creaking panels and major controls like the central gear selector and gearshift paddles feel cheap and brittle to the touch. The Audi definitely looks and feels more solid inside.
But the RXH holds the upper hand for interior space. Because its rear wheels are driven by electric motors, not a conventional driveshaft, the rear passenger footwell isn't impeded by a transmission tunnel. This means three adults can easily fit in the back.
The battery pack encroaches on luggage space – the Peugeot's boot is 67 litres smaller than the Audi's, at 423 litres – but the wide tailgate and handles for flipping down the back seats mean it's still a reasonably practical estate.
The diesel-electric powertrain has also transformed the way the 508 drives. There are four different modes to choose from via the circular selector on the dash. Each one makes use of a different aspect of the car's technology.
The 4WD and Sport modes both free up the maximum 200bhp combined output of the 2.0-litre HDi engine plus electric motor. In these modes, the Peugeot matched the Audi in our in-gear tests, but it still trailed by a second from 0-60mph, with a time of 9.7 seconds.