Porsche Macan Turbo
If you think that a compact SUV can't be a fast, fun car, then think again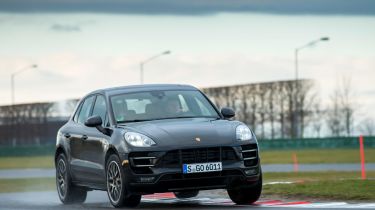 Price: £59,300Engine: 3.6-litre V6 twin-turboPower: 395bhpTorque: 550Nm0-62mph: 4.8 secsTop speed: 165mph
If you think that a compact SUV can't be a fast, fun car, then think again. The Porsche Macan has to be experienced to be believed, because it combines the everyday usability of a five-door SUV with the handling and performance we've come to expect from Porsche's sports cars.
While it shares its basic layout with the Audi Q5, Porsche has developed the Macan from the ground up, so it gets bodywork inspired by Porsche's sports cars, while everything under the skin is designed with performance in mind. The flagship Macan Turbo gets a 395bhp twin-turbo V6, and variable valve timing and direct injection mean there's plenty of power across the rev range.
It's mated to a seven-speed PDK gearbox, which delivers smooth, rapid shifts even at full throttle, while the four-wheel-drive system, standard adaptive dampers and clever Porsche Traction Management electronics mean the Macan Turbo is able to put a smile on your face on roads where normal SUVs would be a real handful.
As with other Porsche models, there are some performance enhancing options for the Macan Turbo. Torque vectoring takes handling to another level, while the Sport Chrono package adds launch control, which makes the most of the Turbo's explosive performance off the line.