Saab's owner gets major cash boost for NEVS 9-3 production
NEVS, the Swedish company's financial saviour has received a fresh injection of cash from Chinese property giant, Evergrande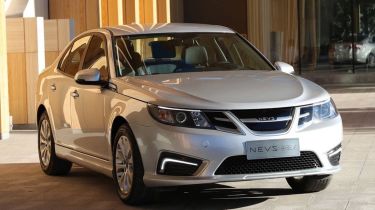 National Electric Vehicles Sweden (NEVS), has announced that the Chinese property giant, Evergrande Group - a significant shareholder in electric car brand Faraday Future - has acquired a controlling interest in the company after buying a 51 per cent share of its holdings.
NEVS bought Saab Automobile's remaining assets, following the Swedish car company's 2012 financial collapse. Since then, NEVS has tried to revive Saab (at least in spirit), forming a series of partnerships with a range of Chinese and Japanese technology companies.
Spearheading this revival would be a Saab 9-3-based all-electric saloon called the 9-3 EV, plans for which first appeared in 2014. The company's manufacturing plant in Tianjin, China was completed in 2017, tasked with building the 9-3 EV in a preliminary production run of 50,000 units, followed by a scaled-up run of 220,000 units.
However, it seems that NEVS has been struggling to meet its production targets, as the first 9-3 EVs are only due to reach their Chinese buyers later this year; two years after production officially commenced.
The recent cash injection, supplied by Evergrande Group, will be used to help increase production of the NEVS 9-3 EV and assist with the company's research and development into autonomous cars. Following this, NEVS plans to expand its interest globally by commencing production of the 9-3 EV at its plant in Trollhättan, Sweden.
Don't get too excited, though; the car's European release will likely be a long way off as NEVS aims to first establish its foothold in the Chinese market before moving overseas. However, when it does arrive in Europe, NEVS assures us that 9-3 EV will retain its "Swedish" character, offering the same levels of safety, technology and driving dynamics for which Saabs are known.
Are you excited to see the (potential) return of Saab? Let us know in the comments section below…