Skoda SUV family set to grow
Skoda will extend SUV range to include an all-new seven-seater and Citigo-based small SUV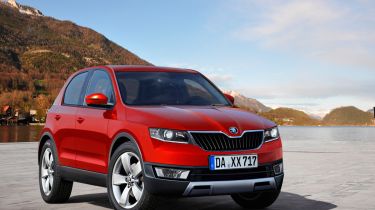 Skoda is thinking big with its SUV plans. Spurred on by the runaway success of the Yeti – which has proven more popular every year since it launched in 2009 – the brand has two more models in the pipeline, catering for very different types of buyer.
Top of Skoda's list of priorities is a much larger, seven-seater SUV, previewed by our exclusive main image, that will be revealed at 2015's Frankfurt Motor Show.
"A seven-seater is the most logical route from our customers' point of view," said Skoda head of development Dr Frank Welsch. "If we do SUVs, they should be typical Skodas, with lots of space. In this respect a 5+2 layout works perfectly."
The company currently has a four per cent slice of the market in Europe, and it believes a model like this would help increase that share. But this car would also work in crucial markets like China – and help Skoda boost annual sales there from around 235,000 to its target of 500,000.
The big Skoda is likely to be the sister car to the production version of the VW CrossBlue concept, and is set to be based on the largest possible version of the MQB platform. That means it'll benefit from the latest fuel-efficient four-cylinder VW Group engines and electrical systems. It will also have a boot as big as the VW Golf's (around 380 litres) with all seven seats in place.
We bounced a few ideas for names off Dr Welsch, including Snowman, Big Foot and Sasquatch. He laughed and noted them all down – so if any are used, you heard it here first.
With its larger dimensions, extra weight and higher price, the big SUV would be the perfect candidate for the latest VW Group plug-in hybrid technology – but Welsch isn't so sure. "We are in a good position as we have smaller cars with efficient engines, so we are good for meeting emissions regulations," he explained. "Other brands in the group need to start with EVs and hybrids now, but not us. One day we will do it."
Sitting below the seven-seater will be the new Yeti. Four years after it was originally launched, the car has just been revised, and it debuted at the 2013 Frankfurt Motor Show. There are now two versions: a rugged Outdoor with plastic cladding, and the sleeker City model, with body-coloured exterior trim. An all-new Yeti, based on the MQB platform, is expected in 2016.
Completing the new Skoda SUV range will be a rebadged version of the production VW Taigun. Based on the VW up!, this car debuted in concept form at last year's Sao Paulo Motor Show, and Skoda will offer its own, subtly different version, taking styling cues from the Citigo. This could be called the Skoda CitySUV, and will be front-wheel drive only.
"For now we need roomy cars first, so we are focusing on this bigger Yeti," said Welsch. "That doesn't mean there's less room for a small SUV, though. We are a member of the VW Group and can take it, but let's wait and see."