Skoda Rapid Spaceback video review
The Skoda Rapid Spaceback is the company's latest family car - but does it live up to its name?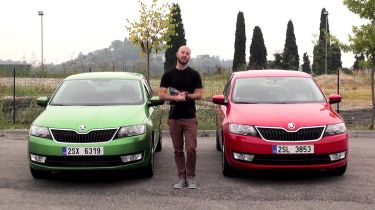 The Skoda Rapid Spaceback might be a bit of a confusing prospect - after all, it has the word space in the name, but actually has less room than the standard car. You can watch our Skoda Rapid Spaceback video review to find out more - and just why this car even exists.
• Skoda Rapid Spaceback review
The current Rapid has the body of a saloon, but is actually a hatchback, and offers a lot of space for not very much money. The new Skoda Rapid Spaceback is not an estate, but is in fact shorter than the Rapid, with a smaller boot. It does get more passenger room though, and a more traditional hatchback shape - hence the name.
Sit in the back of the Rapid Spaceback and the name starts to make sense. There's so much legroom it feels like a bigger car such as the Ford Mondeo. The extra glass means its lighter inside too, which makes it feel much less cramped for passengers.
When it comes to design, however, the two Skoda Rapid siblings are virtually identical. From the front you'll be hard pressed to tell them apart - they've both got the Skoda family face, and the grille and headlights are the same.
At the back it's much easier to tell them apart - the Spaceback is 180mm shorter than the standard car and the rear glass area near the C-pillar has been expanded to increase headroom. You can also get a style pack that adds a roof spoiler, darker rear lights and gloss black mirrors to give it a bit more desirability.
New for the Spaceback is a lower powered 89bhp diesel, which gets 67mpg, emits 114g/km. This engine is also used for the Greenline version, which will have low ride height, even more efficiency tweaks, and that gets the Spaceback under 100g/km.
The 1.2-litre TSI is the best one to go for, with a six-speed manual gearbox and it feels more like a driver's car. The Spaceback also gets a new electric power steering system and a retuned set of dampers.