No room in the range as Skoda Roomster gets the axe
Dated Skoda Roomster will not be replaced as brand look ahead to the future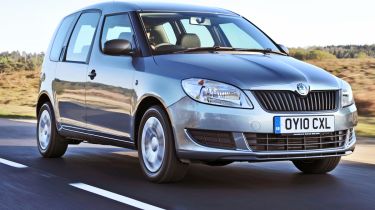 Skoda has pulled the plug on its Roomster for good. The quirky MPV attracted a cult following with its spacious interior and low window line at the rear, which allowed children to get a better view outside.
However, the current car is extremely long in the tooth and the brand had planned to replace it with a rebadged version of the Volkswagen Caddy, as Auto Express exclusively reported last year.
• Best MPVs and people carriers on the market
It was scheduled to appear before the end of last year and was even spied out testing, but was mysteriously delayed – and now it has been axed with the VW Group facing a huge compensation bill in the wake of the Dieselgate scandal.
New Skoda CEO Bernhard Maier exclusively told Auto Express: "As part of our Strategy 2025 we are looking at the segments we are in and the ones that are interesting for us in the future.
"In the last year we sold 16,600 units and we looked at the projection of what could be positive and the capacities we have to develop, produce and sell a car." "Then we decided to focus on the segments which will drive our future. So we decided to skip the Roomster."
The Roomster actually sold 2,000 units in the UK last year, pointing to on-going popularity in this country, but that obviously hasn't helped its cause with Skoda's axe-wielding product planners.
Meanwhile, Maier also revealed that the Czech brand will launch in South Korea by the end of the year. The target is to sell in more than 120 countries by 2025. Skoda is currently operational in just over 100.
Are you sad to see the Skoda Roomster go? Let us know in the comments section below...