New Smart ForTwo & ForFour Brabus and Electric Drive on the way
Smart boss confirms updated electric smart car for 2017, following hot Brabus model this summer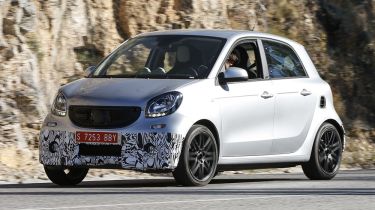 Smart is planning an expansion of its ForTwo and ForFour ranges with hot Brabus models in the summer, as well as fully-electric models at the start of 2017.
Speaking to Auto Express, Smart CEO, Dr Annette Winkler, said "We have asked our customers and they tell us they only do 50km a day - so the Smart Electric Drive makes sense."
"But it needs to be at an affordable price," Dr Winkler added, before pointing out that the UK's £5,000 government grant for electric cars bodes well for the car's success here.
Dr Winkler also indicated that Smart could offer a hire system similar to the one BMW offers - where cutomers of all-electric cars have the option of taking a conventional-engined car for short periods when they need a car that can cover longer distances than a fully-electric model. The upcoming Electric Drive Smart models won't have a massively increased range over the previous model, so this system could prove useful for new owners.
Both the Smart ForTwo and ForFour Electric Drive will be revealed at the Paris Motor Show later this year, ahead of a launch in 2017.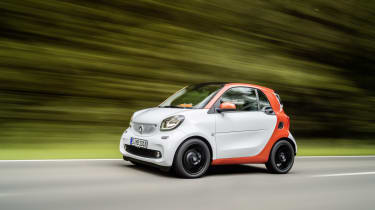 We've already seen spy shots of a hot Smart ForFour in testing, but now the brand has confirmed that the car is on the way - along with its ForTwo brother.
While the faster Brabus ForTwo and ForFour won't be at Geneva in March, we will see the cars later this year - and they will be launched this summer. What we will see at Geneva is a Brabus styling pack for the ForTwo, which offers more personalisation for buyers looking for sporty add-ons.
Slavko Bevanda, a project manager at Smart, told us that the Brabus version will feature the same 900cc turbocharged engine that's available in the current ForTwo, but tuned to produce much more power. There will also be upgrades for the brakes, suspension, interior and exterior.
Would you buy a souped-up Smart car? Or a fully-electric version? Let us know below...