Camo-clad SsangYong Korando Sports DMZ is "a bit of fun"
New special-edition SsangYong Korando Sports DMZ pick-up gets extra kit and a conversely stand-out paintjob
SsangYong has updated its Korando Sports pick-up range, including the addition of this new DMZ model that starts from £19,195.
On the road you're sure to stand out from the crowd in the camouflage-covered DMZ, which also gets 18-inch alloy wheels and roof rails as standard. Of course if you take your new pick-up into the forest, you won't stand out at all.
The DMZ (standing for De-Militarised Zone, the area between North and South Korea) is shipped as a standard white car, then painted with the woodland camo design. It's used in Korea as a military vehicle, and on a recent trip to the country SsangYong's UK boss Paul Williams decided to import some to the UK.
After a trial run sold out, the brand has decided to offer more for sale. Williams said: "The DMZ is a bit of fun. We ordered a short run initially but they were instantly snapped-up by our dealers, so we think it could prove particularly popular with owner drivers."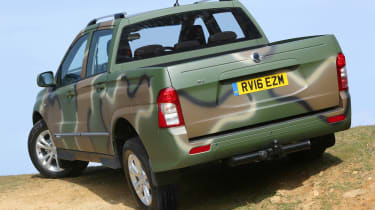 The rest of the Korando Sports range has been updated as well, with S, SX and EX trims available in the standard range that starts from £14,495. SX models get 18-inch alloys, tinted windows, air-conditioning, USB and Bluetooth connectivity and a leather steering wheel. Go for EX and you get heated seats, powered door mirrors and parking sensors, too.
The Korando Sports uses a 2.0-litre diesel engine with 153bhp and 360Nm of torque, returning 37.7mpg. It's available with an optional automatic gearbox too, and offers over two square metres of load space in the back - enough for a Euro pallet. Towing capacity is 2.7 tonnes, with a 1-tonne payload and on-demand four-wheel drive.
The SsangYong Korando Sports starts from £14,495, and comes with a five-year unlimited mileage warranty as standard.
What do you think of the SsangYong Korando Sports DMZ? Let us know in the comments section below...