Updated SsangYong Korando Sports truck to be renamed Musso
The Musso name harks back to one of the first cars SsangYong ever sold in the UK and it's back on the Korando Sports pick-up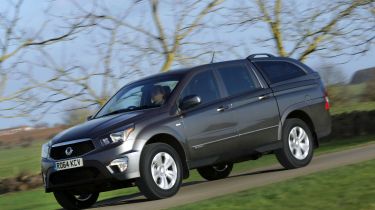 One of the cheapest pick-ups on sale in the UK, the SsangYong Korando Sports is due an upgrade - and it will come with a name change, too. The updated truck will be called the Musso, which is the same name given to a large Daewoo-based SUV SsangYong sold from 1993 to 2005 in some markets. Musso means 'Rhinoceros' in Korean and shows SsangYong's intended image of this truck – rough, rugged, and capable.
The Musso name will come along with an engine upgrade. Where the Korando Sports makes do with a 153bhp Euro 5 diesel engine, the 2.2-litre engine in the Musso will serve up 176bhp and will be Euro 6 compatible. The upgraded engine is promised to return better running costs, too. A new six-speed automatic gearbox replaces the five-speed on the Korando Sports.
In other markets, the Korando Sports is available with a 148bhp 2.3-litre petrol engine, but that engine hasn't been carried over to the UK – and it's unlikely to make it into the Musso, either. In addition to the upgraded engine there will be a facelifted front grille and dashboard.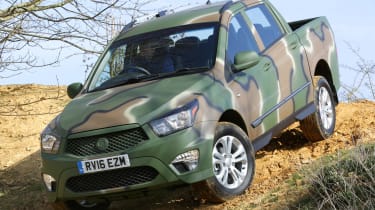 The Musso retains the Korando Sports' multi-link rear suspension – an upgrade from the solid rear axle found on some many competitors including the cut-price Great Wall Steed. Despite this car-like setup, the Musso will still be able to carry a tonne in its load bed – and tow up to 2,700kg.
• SsangYong Korando Sports DMZ review
At launch there will be two versions of the Musso – a basic SE version with 18-inch alloy wheels and artificial leather upholstery. For those after a bit more luxury, the EX version comes with black 18" alloy wheels, roof rails, LED daytime running lights, heated front seats, automatic climate control, automatic headlights and wipers, and leather upholstery.
It's not yet known whether the bonkers camouflaged Korando Sports DMZ will transfer to the new Musso, but as it's little more than a paintjob we see no reason why it couldn't be. Prices start at £15,995 (excluding VAT) for an SE truck fitted with the six-speed manual, rising to £18,995 for an EX model with the six-speed automatic.
Which name do you prefer - Korando Sports or Musso? Let us know in the comments below...