Subaru XV - best small 4x4s
The XV's permanent 4WD system mean it can run rings around most other crossovers in the rough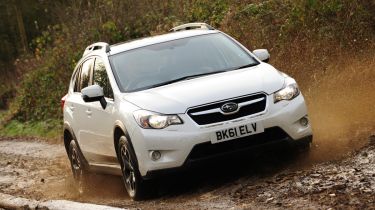 While the price might at first appear off-putting to anyone considering the Subaru XV against a Skoda Yeti, any requirement for serious mud-plugging with the family car could swing the balance in the Subaru's favour. 
The XV is Subaru's take on the trendy crossover class, but the firm's engineers clearly didn't want to compromise the brand's legendary off-road capability in the name of fashion. The result is a slightly uncomfortable mix of funky design and styling, with suspension that will be too harsh and noisy for drivers coming straight out of premium hatchbacks. The interior too lacks the quality feel of many rivals, with cheap looking plastics spoiling the ambience.
But it's still quite fun to drive, with direct steering and decent chassis control, and the petrol and diesel 2.0 'boxer' engines are decent performers with reasonable economy. The optional CVT auto gearbox doesn't add to the pleasure though, being noisy and feeling unresponsive. 
On the practicality front the Subaru XV is a little less roomy than a Qashqai, but still spacious enough for a typical family's needs. So if you want to mix country living with a bit of crossover style, the XV could well fit the bill.