Suzuki Ignis review (2000-2008)
Suzuki Ignis reviewed - one of the "forgotten cars", but is it any good?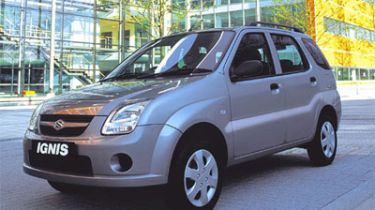 The Ignis is one of those forgotten cars, which only registers on the radar of a tiny number of buyers in the UK. That's a shame as it's a very credible package in the sub-supermini market. Its styling might fall into the forgettable category, but its rather boxy, utilitarian looks allow the Ignis to offer a surprising amount of interior space; it being one of only a handful of such diminutively proportioned cars to offer genuinely comfortable seating for four adults. Heavily revised mid-2003 the Ignis is now an even more tempting proposition. The updated interior is smarter, Suzuki raiding GM's parts bin to good effect with built in stereo controls, hooded instruments and better quality plastics. Combined with a generous standard specification including electric windows, a CD player and ABS and the sub £8,000 entry-level price makes the Ignis a good value package.
The driving experience might lack the zest of some of its rivals, the gearbox offering a rather vague and notchy shift but the ride is adequate and the engine eager. Around town, the Suzuki's natural habitat, the high driving position gives a good view of the road ahead, while the 1.3-litre engine is always ready to exploit a gap in the traffic. A larger 1.5-litre is offered too, with an automatic transmission or four-wheel-drive, but unless you desperately need an auto or live up a farm track then the 1.3 is perfectly capable. The interior might not offer the flexibility of some rivals, but few of them can offer the space and excellent value of the Suzuki. For families on a budget looking for a spacious, comfortable and able car then the Ignis fits the bill surprisingly well, now all Suzuki needs to do is raise the public's awareness to its existence.
Next Steps
Which Is Best
Cheapest
Name

1.2 Dualjet 12V Hybrid SZ3 5dr

Gearbox type

Manual

Price

£14,091
Most Economical
Name

1.2 Dualjet 12V Hybrid SZ3 5dr

Gearbox type

Manual

Price

£14,091
Fastest
Name

1.2 Dualjet 12V Hybrid SZ-T 5dr CVT

Gearbox type

Auto

Price

£16,571