Suzuki Jimny - best small 4x4s
The new Suzuki Jimny is a talented off-roader which oozes personality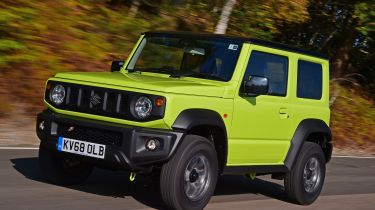 The previous generation Jimny was on sale for 20 years, during which time it enjoyed sales success due to off-road ability unparalleled in its class.
In top-spec SZ5 trim, the new Jimny comes with more creature comforts like climate control, heated seats, a touchscreen, Apple CarPlay and Android Auto. Despite the added toys, Suzuki hasn't forgotten what made the previous Jimny so popular. The current car's retro looks coupled with an ability to traverse steep inclines, muddy tracks and rivers adds to the likeable rough and ready character of this little 4x4.
Unfortunately, the size of the Jimny also compromises interior space and as a result the boot size is pitiful. The build quality feels sturdy if a little utilitarian, although the scratchy plastics and hard materials will be refreshing for 4x4 enthusiasts.
Despite the Suzuki Jimny's lightweight construction and small size, its blocky shape means it's not the most aerodynamic car and if you plan on using the all-wheel drive system to its full extent, expect the fuel efficiency to drop severely.