New Tesla Model S Ludicrous Mode is "faster than falling"
Elon Musk announces Ludicrous mode for Tesla Model S, plus new entry-level car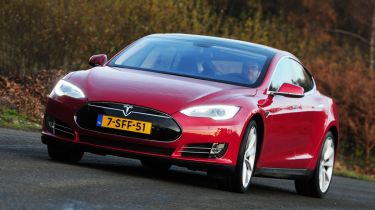 Tesla boss Elon Musk has announced a raft of upgrades to the Model S saloon, which includes a new 'Ludicrous' mode, which frees up more power from the battery pack than the current Insane setting. Available as an upgrade for P85D owners, it drops the 0-60mph time from 3.1 to just 2.8 seconds.
Musk told us: "In Ludicrous mode the car will accelerate at 1.1g, which is actually faster than falling.
"Customers have loved Insane mode, but nobody has actually asked for a Ludicrous mode – that would just be ludicrous! The car is like your own personal roller coaster."
Two other upgrades were announced, including a new 90kWh battery pack, which will give an extra 15 miles of range – the new 90D model will cover up to 300 miles at a constant 65mph on the highway.
At the other end of the line-up, a new two-wheel drive entry-level 70kWh model will go on sale. Although UK prices have yet to be announced, we expect the new car to cost around £3000 less than the four-wheel drive version, starting at around £47,000.
The Ludicrous upgrade will be available to current P85D owners for six months for around £3200 plus fitting. A Model S powered by the new 90kWh battery will cost around £2000 more than the equivalent 85kWh-powered cars, with the Ludicrous upgrade then costing around an additional £6000.
• Tesla Model X to be world's fastest SUV
Musk said that he expected an average 5% pack power increase each year, and also said that he wouldn't necessarily recommend somebody upgrades each year. Improvements will keep on coming, so he advised customers not to hang on until a better one comes along. "There'll always be a better one in the future. If you want to wait until the car won't be any better, you'll never buy one."
Now read our world exclusive story on the upcoming Tesla Model 3.