Car essentials for your Easter camping holiday
The kit you need to buy before embarking on an outdoor break
It's been a challenge to travel over the last couple of years with quickly-changing restrictions leading to a lot of uncertainty. One kind of getaway that has remained popular in that time, though, is the camping holiday.
Figures from the Office for National Statistics show a 68.6 per cent rise in activity in the UK's accommodation and food services sector last April compared to the month prior. One of the main drivers? Caravan parks filling up in time for Easter. With the first major holiday break of 2022 just around the corner, those keen to embark on a camping trip will be starting to make plans. 
Whether you're an experienced camper or a first-timer, it's important to make sure you have everything you need to look after both your car and holiday companions. The eBay motoring store has a host of products to get you through your Easter break – from parts and accessories to outdoor essentials. Here's a look at some of the key items you may want to pick up before your next camping excursion.
Prepare your car
You'll want your car to be in good condition when you set out, and after being exposed to the elements there's a good chance it'll need a clean when you get back from your holiday as well. A pressure washer is an effective way to get rid of initial dirt, and from there a dedicated car shampoo and a sponge or mitt will help you shift what's left. You may also want to think about getting a special automotive glass cleaner for your windows, while a cordless vacuum cleaner with attachments can get to work on the interior.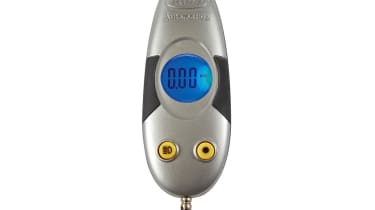 Checking your oil and topping it up if necessary will help protect your engine from any damage. Well-known oil brands like Shell, Mobil and Castrol are available from eBay, as is antifreeze coolant, which keeps your engine from overheating in summer or freezing in winter.
It's also wise to make sure your tyres are properly inflated, which will help reduce wear and tear, increase lifespan and get better performance from your car. A pressure gauge will mean you can check the pressure levels and make sure it isn't too high or too low. A ​​Ring RTG4 is a worthwhile investment here.
Car tent and accessories
Those with a caravan or campervan won't need to worry about a tent, but if you're looking to get a little closer to the great outdoors then a sturdy shelter is a must. A ground tent that fits to the back of your vehicle, like the Napier Sportz Dome-To-Go, will give you easy access to your vehicle for storage and charging up your tech devices.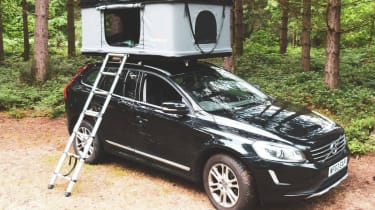 Another option is a roof tent, which straps to the roof of your car so you can sleep above ground level. These tents are much more common in Australia or the US, where you're more likely to encounter reptiles or larger animals foraging for food. However, if you're keen for some elevated shut-eye then a RoofBunk tent (above) is worth considering.
Partnership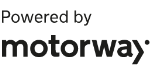 Need to sell your car?
Find your best offer from over 5,000+ dealers. It's that easy.
If you're not opting for a roof tent, then consider investing in a roof box to fill that space, that way you'll have plenty of extra storage room available should you need it. Another useful car accessory, particularly if you don't have tinted glass, is a window shade to keep out glare from the sun and protect against UV rays. These sun shades from Sumex should do the job.
First aid and tools kits
Carrying a first aid kit is recommended all-year-round, not just for a camping trip or driving break. When you're facing the outdoors, though, they're a must-have for dealing with any cuts, scrapes or burns that occur.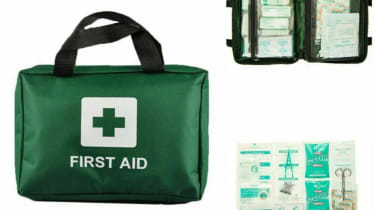 Investing in a comprehensive tool kit, making sure you cover off the basics like screwdrivers, a ratchet and sockets, pliers, a hammer and a tape measure, is a must. These will come in handy if you need to tinker with your car, and also for putting up the tent, making adjustments and performing emergency repairs. However, hauling around a heavy tool set takes up lots of space, so this portable 77-piece Black & Decker roll bag should see you through.
Sleeping bags and outdoor gear
You'll want to make sure you're well-rested to make the most of a camping holiday, and a good sleeping bag can work wonders for this. Rab's Ascent 300 is a lightweight and packable down-filled bag that's durable and ideal for the spring and summer months.
Tables and chairs are great for that home-away-from-home experience. These folding chairs are an affordable choice, but if you want something slightly more luxurious then this Hi-Gear chair offers quilted seating with a handy cup holder. For serving up food, folding trestle tables come in a variety of sizes, and are ideal for reuse if you're throwing barbecues in the garden in summer.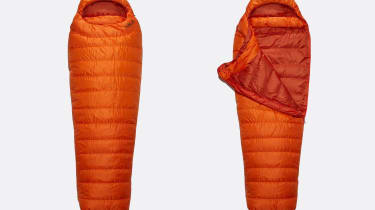 There's a good chance you'll need to navigate around your vehicle or campsite in the dark, and it's best not to rely on your smartphone's light for this. Instead, invest in dedicated tools for the job like a torch or camping light.
Food and cooking essentials
A camping trip requires some extra thought around meals and how you're going to cook without a kitchen at your disposal – the Outwell Appetizer and Campingaz Camp Bistro 2 gas stoves are two solid options here. You'll also want to invest in plates and cutlery, and these eco-friendly sets are biodegradable, so you can dispose of them easily after your trip.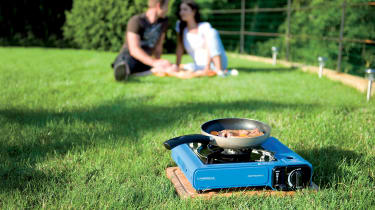 A cool box will be a worthwhile investment, ensuring that drinks and any food supplies stay chilled throughout the duration of any break. The Coleman 50Qt Xtreme Wheeled Cooler has an impressive 47-litre capacity and promises to keep contents cold on ice for up to five days. A good set of flasks are also essential, and Proworks offers a good option, keeping liquid cold for up to 24 hours or locking in heat from warm beverages for 12 hours.
If you're on a campsite then the last thing you won't want to be making constant trips to the water supply to top up. Instead, a jerry can will save time and effort, and you can even buy a separate can to store spare petrol should you need it.
Visit eBay to buy car parts, supplies and accessories for your Easter camping holiday