Caravaning for beginners: how to choose a caravan and tow it with confidence
Caravans and motorhomes offer real freedom, but getting started properly is crucial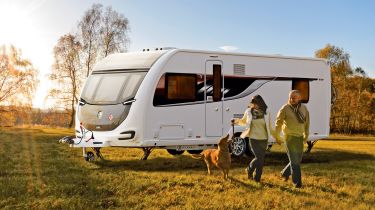 Caravanning is back. Along with camper vans and motorhomes, there's been a resurgence in people taking to the road to discover new and much-loved destinations. It's not hard to see why; being locked down and stuck indoors for months at a time has led to renewed interest in the great outdoors.
With 385,000 households currently signed up, the Caravan and Motorhome Club is now enjoying record membership numbers, and the 2022 Caravan, Camping and Motorhome show in February attracted a 100,000-strong sell-out crowd.
Interested in taking the plunge? On this page and over the rest of our caravan and motorhome special, linked to below, we've covered the absolute basics of caravanning and the kit you'll need, plus learning to tow and what to tow with. We've highlighted the very best new and used caravans, and we've recommended campsites across the length and breadth of the UK.
If you're hungry for more, we recommend you join the Caravan and Motorhome Club, which has helped us to produce this guide. It provides access to a huge network of high-quality sites, with member discounts and expert advice. Visit camc.com for more information.
How to choose a caravan
With an incredible number of options out there, ranging from modest £500 used examples to brand-new, six-figure wonders, choosing the right caravan might seem like an impossible task. However, it's easy enough to narrow things down by examining your needs and deciding how much you're willing to spend.
Once you've settled on a budget, consider how many people the caravan needs to sleep. Then, think about the layout that best suits your needs. Many websites for new and used caravans will let you search based on criteria like kitchen and bathroom location and bed types, such as fixed bunks or drop-down beds.
You'll need to double-check the towing capacity of your car and its kerbweight. The '85 per cent rule' that you may hear about refers to guidance suggesting the laden weight of the caravan should be no more than 85 per cent of the towcar's kerbweight.
Annual servicing costs are often based on the number of axles a caravan has. Most caravans are single-axle, while larger caravans use a twin-axle set-up. Vast tri-axle caravans are rare in the UK.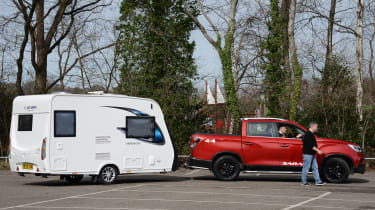 The law
In December 2021, the UK's rules on towing changed. Now, anyone with a full UK driving licence issued after 1 January 1997 is permitted to tow trailers and caravans weighing up to 3,500kg (MAM) without having to take an extra test. However, for drivers with a licence issued before 1997, the rules remain the same as before – they are generally allowed to tow trailers and caravans weighing up to 8,250kg (MAM). Before you start towing, you should check your licence to ensure that your outfit is within the law.
A vehicle's towing weight limit must also be adhered to, and a driver needs to be able to see four metres on either side of the towed caravan and 20 metres behind. To do this, you'll almost certainly need to invest in mirror extensions.
The caravan's number plate needs to match that of the car towing it, and the law says that it must be lit after dark while the caravan is being towed. Finally, in the UK, the speed limits when towing are 50mph on single-carriageway roads, and 60mph on dual carriageways.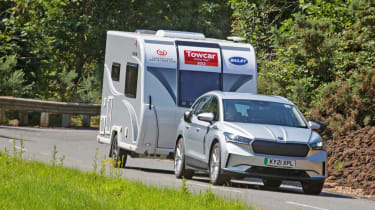 Towing in an EV
With many electric cars packing impressive torque figures that are instantly delivered, in a sense EVs are ideal for towing, but they're not without their problems. Firstly, not all EVs are Type Approved to tow, meaning fitting a tow bar could invalidate your warranty and insurance, so check the situation before you commit. If a car can be specified with an optional towbar, you're on safer ground.
Then there's the issue of range: even towing a lighter caravan can reduce an EV's range by half. With anything over 300 miles deemed impressive for an EV right now, such a big dent could prove very limiting. Towing has a drastic effect on the efficiency of combustion-powered tow vehicles, too, but when you need to fill up with fuel, pulling into many petrol stations is easy; you may need to unhitch your caravan to charge your EV.
If you tend to stick closer to home when camping, an EV will do the job just as well as a combustion car, if not better. You can go further afield, but be aware of the extra complexities involved.
Caravan and motorhome jargon buster
Your caravaning experience will run that little bit more smoothly if you understand the key terminology. Our jargon buster is here to help...
A-frame: The triangular-shaped protrusion from a caravan that carries the jockey wheel (see below) and the towing hitch
Berths: Beds/the number of occupants a caravan or motorhome can accommodate
Cassette: A tank for a chemical toilet that can be removed and emptied
CDP: Chemical disposal point – where a chemical toilet's cassette can be emptied
Corner steadies: Four legs that wind down from the corners of the caravan to keep it stable
CRIS: The UK's national register of caravans
Dinette: A table and chairs that can be folded away to create a sleeping area when not in use
Grey water: Waste water from the sink and shower drains
Hardstanding: A kind of campsite pitch with a more weather-resistant surface than grass, e.g. pebbles
Hookup: An electrical point on a campsite pitch that can be connected to your caravan
Jockey wheel: A small wheel that helps when manoeuvring the hitch onto the tow ball
Leisure battery: A 12-volt battery used to power a caravan's various features
MAM: Maximum Authorised Mass – interchangeable with MTPLM (below)
MIRO: Mass in Running Order – the caravan's weight in the manufacturer's standard spec
MTPLM: Maximum Technically Permissible Laden Mass – a weight figure that your caravan and all the equipment onboard must not exceed while it's being towed
Noseweight: The weight of your caravan and its contents on the tow ball
Outfit: The caravan and the vehicle towing it combined
Pitch: Where you park your caravan at a campsite to stay the night
Snaking: An unstable side-to-side movement made by the caravan, sometimes caused by wind
Touring: Used to differentiate towed caravans from static ones. It also refers to pitches suitable for both towed caravans and motorhomes
Caravans and motorhomes on Auto Express...
Caravans
Motorhomes
Towing