Best luxury caravans: premium caravans from the top brands
For those campers who prioritise luxury, we've compiled a list of some of the best premium caravans on the market...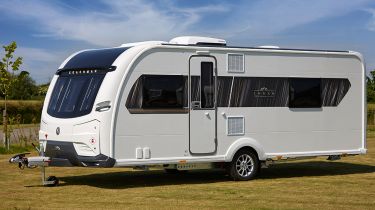 Upgrading to a caravan in the luxury class means you'll benefit from excellent space for the family, a premium interior and enhanced onboard features such as a fully equipped kitchen area, separate showering facilities and air con, along with useful tech and connectivity functions.
But, due to the increased weight of your larger caravan, you'll have to consider what type of towing vehicle will be best able to pull it, while it will probably be too big to park on most driveways. Of course, caravans offering this type of luxury will be more expensive to buy and, if you're considering a seasonal, semi-permanent pitch, there will be extra costs involved.
However, if you've graduated to this type of high-end camper, then you've probably worked out most of the pitfalls, along with the various dos and don'ts and are just just ready to enjoy the flexibility and freedom of your own holiday home on wheels.
Read our list of the best luxury caravans from the top brands...
Adria Adora Isonzo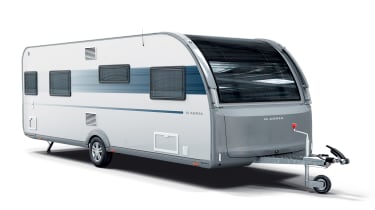 From: £29,705 Berths 4
The Isonzo is a wide-bodied luxury tourer aimed primarily at couples who might want to take the grandchildren away for the occasional weekend treat. The extra width creates space for a transversely mounted fixed-island double bed, with a narrow washroom incorporating a separate shower cabinet positioned across the back of the van.
The cosy lounge up front converts into another transverse double and there's a well equipped kitchen featuring an oven, microwave and full-height fridge. The contemporary styling feels more on-trend than many UK counterparts and the build quality is approaching German standards.
At 1,900kg all up, this eight-metre luxury tourer will need a fairly muscular towcar to pull it in comfort – think large executive estate with a powerful diesel engine or a mid-size SUV.
Pros: Stylish and contemporary caravan with a comfortable fixed bed and comprehensive spec. Stylish detail lighting.
Cons: The washroom is just a little narrow compared with its twin-axle competitors. Heavy to tow – needs a large estate or SUV.
Knaus Südwind 580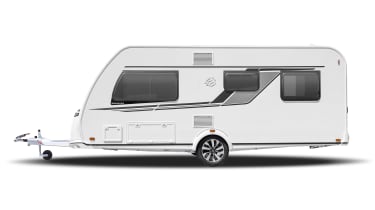 From: £33,995 Berths: 7
Like German cars, Teutonic caravans have a deserved reputation for good build quality and excellent reliability that justifies the premium price tag.
Knaus is a company renowned for its excellence in design and build quality, and the Südwind 580 is a perfect example. It sports a unique layout, and this compact seven-berth caravan has a central dinette, a fixed front double and a triple bunk at the back. There's also a compact corner washroom and a decent kitchen.
The intelligent use of space and clever packaging make it an ideal choice for families. And although space will be at a premium with a full complement on board, this caravan is aimed squarely at those with an active lifestyle who will spend most of their time outdoors and have the majority of their meals sitting outside under the awning.
Pros: Unique and innovative layout that's impossible to find on a UK-built caravan. Clever use of space. Fine build quality.
Cons: Compact footprint, and the flipside to German build quality is additional weight. Cramped with seven people on board.
Compass Casita 840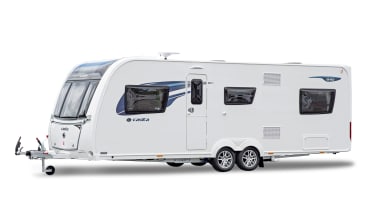 From: £27,144 Berths: 6
The Compass Casita is a brilliant touring caravan, with lots of room to accommodate a growing family without requiring a big SUV to tow it. An 8ft-wide bodyshell offers extra room and enhances the spacious open-plan design.
There's a huge lounge and a separate dining area opposite the well equipped kitchen. At the back is a separate fixed corner double bed, with a sizeable washroom for an en suite feel.
This design approach is the gold standard for young families, with separate living spaces for children and grown-ups, a large washroom for cleaning younger kids at the end of a day's activities, plus a comfortable bed that doesn't need making up for the parents
Pros: Roomy, family-friendly layout that can be towed by a large family car. Fixed-bed comfort for the adults. Not too heavy despite wide bodyshell.
Cons: Lacks separate lounge space for the adults when all the kids are in bed. Too big to park on the driveway.
Swift Elegance 835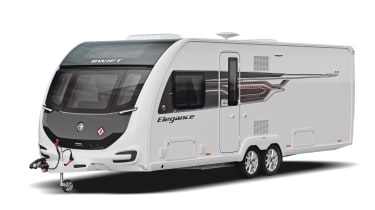 From: £40,495 Berths: 4
This is a different take on the luxury two-berth caravan, with occasional multi-berth flexibility. The fixed transverse island rear bed is aimed squarely at couples, while the 8ft-wide body means there's lots of room to get in and out of bed without disturbing your partner.
The generous-sized washroom is split across the middle of the van, offering en suite privacy from the living area plus the ability to close it off from the bedroom, too. There's also a comprehensively equipped kitchen and a cosy lounge, which is ideal for two people, but will easily seat four.
Underfloor heating is standard, and many of the caravan's functions can be controlled via a smartphone app.
Pros: A luxurious tourer for two, with a great bed and a huge washroom. Smartphone-controlled functionality allows the caravan to be preheated.
Cons: The twin beds in the front lounge are only big enough for children to use. Looks pricey and heavy, requiring a large SUV to tow it.
Coachman Lusso 1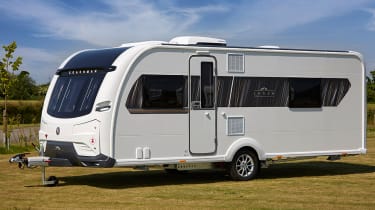 From: £41,880 Berths: 4
Coachman's Lusso is another UK-built luxury tourer with occasional multi-berth flexibility, which feels a cut above rivals when it comes to those luxury detail flourishes.
The 8ft-wide bodyshell allows the fixed island double bed to be transversely mounted, shortening the footprint and allowing Coachman to build the Lusso on a single-axle platform to save weight. Out back is a beautifully finished full-width washroom, while the L-shaped seating arrangement really makes the most of the open-plan front lounge.
An L-shaped kitchen maximises worktop space and the Lusso can be ordered with 4G WiFi, air-con and a self-levelling system.
Pros: Single-axle platform keeps the weight down for easier towing. Wonderful end washroom. Practical L-shaped kitchen.
Cons: The rooflights over the lounge and bedroom are on the small side and this is a pricey proposition for a first-time caravan buyer.
Elddis Avante 868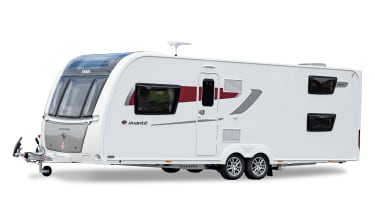 From: £27,144 Berths: 6
The Avante 868 is another innovative family-friendly tourer that offers genuinely spacious accommodation for growing families.
Its 8ft-wide bodyshell and twin-axle chassis maximise the room in the airy front lounge and unlike many multi-berth caravans, there is plenty of storage incorporated into the layout. The lounge converts to a large double or twin singles, with a fixed double and bunks at the back of the van. The washroom is split across the central aisle, creating a separate shower and washroom with an en suite arrangement that offers the adults a bit of privacy.
The 1,724kg caravan doesn't need a large SUV to tow it and the flexible layout will suit the changing needs of a growing family.
Pros: Space for a large family at a realistic price. Plenty of storage and a usable payload, even with six people on board. Flexibility to cope with changing needs of a growing family.
Cons: Rear fixed double bed is a little on the narrow side for adults. Bunks don't work for very young children or teenagers.
Buccaneer Cruiser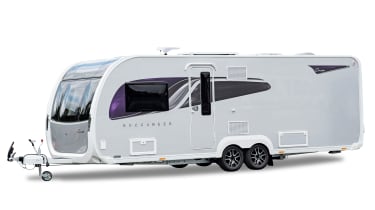 From: £39,044 Berths: 4
While its name evokes the lure of the open road, this luxury caravan is a good example of an accelerating trend at the top end of the market: the rise of the semi-permanent pitch.
Essentially, these big, heavy caravans spend most of the year on static pitches that owners 'rent' for the entire season from caravan park operators, so towing is minimised. The Cruiser is well equipped, with central heating and a full suite of tech and connectivity options. The space-efficient transverse island double bed creates room for an 'en suite' end washroom and a roomy front lounge.
It's a spacious couple's van that doubles as a four-berth for when the grandchildren come to stay.
Pros: Space-efficient layout with all the latest technological mod cons. Comprehensive suite of connectivity options. Fixed island bed is comfortable.
Cons: Needs a large towcar to pull it, but more likely to be parked on a semi-permanent pitch.
Bailey Unicorn Cabrera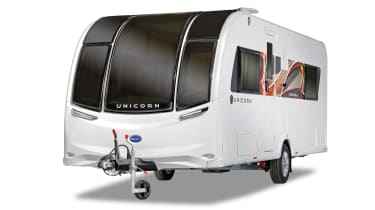 From: £29,199 Berths: 4
Bristol-based Bailey is a master of the family-friendly touring caravan and the Unicorn Cabrera is quite possibly the most practical premium four-berther on the UK market.
Based on a single-axle 7ft 5in chassis, the Cabrera weighs just 1,600kg, meaning it can be safely towed with a fairly modest family hatchback or estate car. It has a large fixed island double bed and an 'en suite' washroom split across the centre of the caravan, while the lounge converts into another large double bed or – for younger children – two singles.
Central heating is fitted as standard, with extra connectivity and entertainment systems as options. Space-efficient design inside shows the attention to detail that has gone into this caravan.
Pros: Lighter than most rivals without noticeably compromising living space. Central heating makes the Unicorn usable all year round. Clever design and packaging touches.
Cons: Lacks some of the 'bling' of pricier rivals. The interior styling is a little uninspiring compared with more expensive options.
Caravans and motorhomes on Auto Express...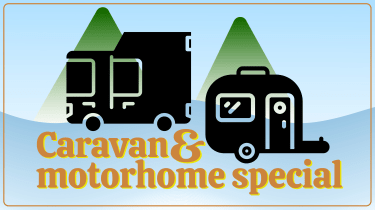 Caravans
Motorhomes
Towing