Best used caravans: the top pre-owned choices of all sizes
A second-hand caravan can be an astute buy, so we've put together a list of some of the top pre-owned choices...
For many buyers interested in caravan ownership, the entry price of an all-new model may be a little too steep to be able to consider a purchase. Luckily, there's a thriving used market in the UK that is able to offer a wide range of caravans - from nearly new to older, well-cared for examples, with the obvious bonus being that you should be able to hitch up your own camper for a much more attractive price than a model fresh out of the showroom.
As with buying a second-hand car, it's important that you do your homework before parting with your cash and, unless you have experience in the market, it may be worth looking towards a specialist dealer. But there are also other ways to snap up a bargain; from a private sale, auction houses and sometimes even manufacturers themselves offering refurbished models.
Although you won't have the opportunity to pick your own individual specification from the factory, there is a multitude of used models out there to choose from, and you won't have the added hassle of any delays in production or delivery that might occur with a new caravan.
If you're interested in exploring some of the best models on the used market, read our list of the top pre-owned choices of all sizes...
Hymer Nova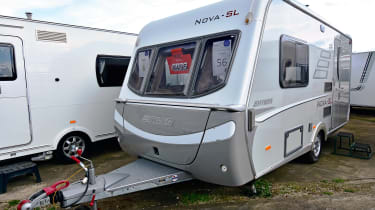 Years: 2008-10  Berths: 2-4
Pick of the bunch: 470
Expect to pay: £9,000-£12,000
Hymer has a deserved reputation for building caravans to last and the Nova was a popular import during the caravanning boom years between 2005 and 2015. The two-berth 470 and four-berth 540 were the most popular models and there are usually a handful in the caravan classifieds and at dealers nationwide. 
The downside to Hymer's build quality is a weight penalty; the 470 tips the scales at 1,500kg and needs a substantial vehicle to tow it. As with all used vans, look out for delamination evidenced by soft patches in the floor, cracking in the exterior gel coat, DIY repairs and leaks.
Pros: German build quality and robust – if slightly clunky – interiors. Good availability of spare parts. 
Cons: Hymers tend to be on the heavy side and they don't come cheap, while good, more recent used models are in high demand.
Knaus StarClass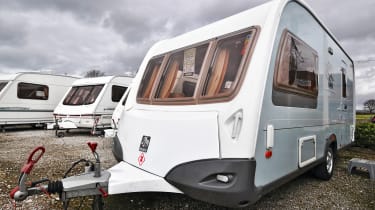 Years: 2006-2009  Berths 2-5
Pick of the bunch: 480
Expect to pay: £7,000-£12,000
The Knaus StarClass is an iconic caravan that took the UK market by storm when it arrived in 2006. The striking front panel and pastel- coloured side panels broke the 'white box on wheels' mould and it became a modern classic. 
The interior of early UK models now looks a little clunky, but it was built to last and as long as they have been cared for, even 15-year-old examples still look fresh. The two-berth 480 was a popular choice for Brits, with the family-friendly 560 also finding favour. Check for damp patches, lift the carpet and prod the floor, and pay close attention to door and locker catches.
Pros: Elegant exterior and distinctive profile. Striking rear light clusters. Solid, if slightly dated interiors. German build quality.
Partnership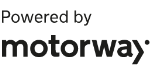 Need to sell your car?
Find your best offer from over 5,000+ dealers. It's that easy.
Cons: Four-berth models are heavy compared with UK-built equivalents. Washrooms can look tired after extensive use over a decade or so. 
T@B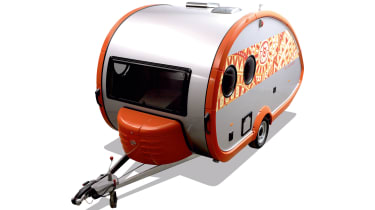 Years: 2015-2020  Berths: 2-4
Pick of the bunch: 400L
Expect to pay: £10,000-£15,000
Despite their design icon status, there are usually a handful of used T@Bs available at any time because these funky little tourers don't work for everyone.
T@Bs are made in Germany and their design and quality are pretty robust, while remaining light and easy to manoeuvre once on site.
But bear in mind the standard specification was very basic and gas and electric services weren't always included in UK imports. Beware of retrofit DIY electric and gas services or vehicles that may have been used for festival glamping weekends.
Pros: Iconic design, lightweight and easy to tow. Aerodynamic design suitable for EVs with restricted towing ability.
Cons: Tiny interiors: four-berth models are realistically 2+1. 320 has no washroom/WC. Very limited baseline spec means some lack gas or electric services.
Sprite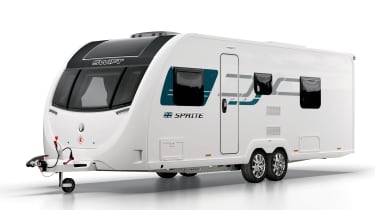 Years: 2007-2020 Berths: 2-6
Pick of the bunch: Major 4
Expect to pay: £7,500-£18,000
The popular Sprite brand is synonymous with budget family caravanning and there's a huge choice of used examples. The range comprises lightweight two-berths and roomy twin-axle six-berths for larger families, and even the bigger models are generally light enough to tow with a family car or medium crossover. 
Kit levels tend to be quite basic, but gas and electric services should be there. Look out for multi-berths that have serious wear and tear, particularly kitchens and washrooms. Tired soft furnishings can be easily replaced, but upgrading water and gas appliances is a job for an approved workshop.
Pros: A comprehensive range of layouts to suit couples and families. Relatively light weight and easy to tow. All the essentials included in the standard UK spec.
Cons: Early examples can feel a bit tired; the price should reflect this. Narrower 7ft 2in bodyshell makes the interiors of early family models feel a little cramped.
Bailey Pursuit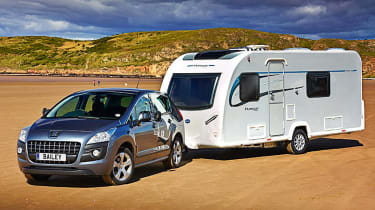 Years: 2014-2018  Berths: 2-5
Pick of the bunch: 540-5
Expect to pay: £9,000-£15,000
Bailey's Pursuit is a family favourite with broad appeal at an attractive price. The firm's Alutech construction technique makes it stronger and more durable than some UK rivals, and there's a wide range of berths and layouts on offer. 
The flexible 540-5 has a classic layout with parallel front benches, which convert to a large double bed, and a washroom with two bunks alongside. The two-berth 400/2 is a superlight couple's tourer with a huge end washroom that can be towed by a supermini. 
Standard kit tends to cover the basics, but many used examples may have an awning thrown in to extend the accommodation space.
Pros: Robust build quality. Retains its value well, but look for a main- dealer service history. Wide range of layouts.
Cons: Interiors sometimes feel a little plain and floral fabric patterns on earlier models won't be to everyone's taste. Expect to pay a premium for low-use, historied examples.
Compass Corona 574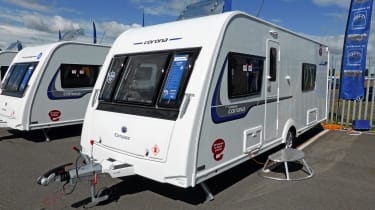 Years: 2007-2015  Berths: 2-6
Pick of the bunch: 574
Expect to pay: £6,000-£14,000
A popular all-rounder from a UK multi-marque firm, with an abundance of used examples available. The cabinetry of earlier examples is beginning to feel a little dated, but the soft furnishings remain pleasingly current. 
Standard specs evolved over time but should include gas, water and electrical services. A full set of owner's club stickers can be a good indication that the caravan has been lovingly cared for, but beware of DIY bodges and fixes undertaken by hobbyists. Look for a clean but well used example with a service history. Check with a dampmeter for water ingress and the floor for any softness.
Pros: Huge range of layouts for families and couples. Lots of used stock, so you should find a reasonable one nearby. Good standard spec.
Cons: Earlier models will be looking tired inside and may have more serious issues under the skin. Older models are prone to DIY 'customisation' by second or third owners.
 Caravans and motorhomes on Auto Express...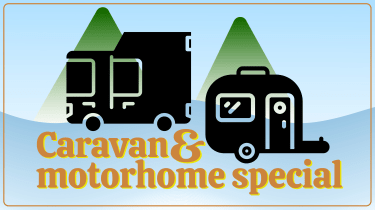 Caravans
Motorhomes
Towing