Best family caravans: the top mid-priced choices for families
Whether you're looking to upgrade, or simply after more space, you should find some interesting options on our list of the best mid-priced caravans for families...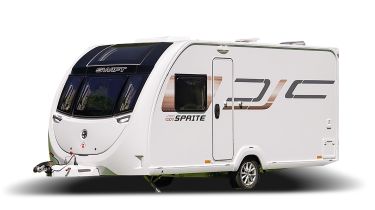 So, you've tasted a little caravanning culture with a compact entry-level model and you're ready to trade-up, or perhaps you're considering a first-time family purchase and don't want to break the bank. Well, our list of mid-priced and family-focused caravans should provide a good insight into what you can achieve for your budget and highlight some of the benefits to be had from investing a little extra in your holiday camper.
Buyers wanting more of a home from home experience may find a mid-spec caravan more to their liking; some of these models feature large double beds, with separate washing areas and showering facilities, while touches such as programmable central heating and wireless smartphone charging functions just add to the overall appeal.
But, it's probably the increase in basic floor space and comfort levels that will prove to be most attractive features - helping to create an open, airy feel, rather than the tighter dimensions of cheaper models which some might find a little cramped.
Read on for our list of the best mid-price and family caravans...
Eriba Feeling 470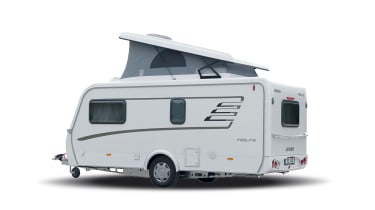 From: £20,880  Berths: Up to 5
The Feeling has been around for more than a decade and with the predicted increase in caravanners wanting to tow with an EV, the streamlined Eriba could be poised to find its forte. The pop-top roof significantly reduces the frontal area when you're towing, which cuts drag – the most significant drain on an EV's battery at motorway speeds. 
Given the caravan's compact footprint, space inside is always going to be at a premium, but this super-flexible layout works for couples and active families, and it can accommodate up to five if the optional (£3,700) rising roof bed pack is added. 
At just 1,300kg, the Feeling is also easy to haul with a fuel-efficient towcar and it can be stored on a driveway or in a standard garage.
Pros: Compact, lightweight and aerodynamic – the perfect caravan for the electric era. High-quality build and good finish. Low-profile design looks great.
Cons: It's always going to be very cosy with four or five on board, but it's ideal for active families who spend most of their time outdoors. Headroom is restricted in areas where the rising roof doesn't extend.
Adria Adora Seine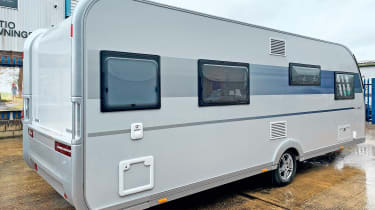 From: £29,495  Berths: 4
Another innovative layout from Adria, the Adora Seine offers flexible, family-friendly accommodation on a lightweight 7ft 6in single-axle 1,550kg chassis that can be towed by a fairly modest family car. There's a roomy end washroom with separate shower and a pair of fixed single beds, which could be used by adults or children, leaving the lounge free for mum and dad after the kids have gone to bed. 
The smooth exterior design from the Slovenian manufacturer feels very 21st century, while the interior styling is contemporary European, and more fashion-forward than many UK offerings. The huge panoramic front window and sunroof lend a really spacious, airy vibe to the open-plan lounge.
Pros: Lightweight, clever design integration with awning, bargain price.
Cons: Arguably not as 'cool' as some of its showier rivals.
Bailey Unicorn Seville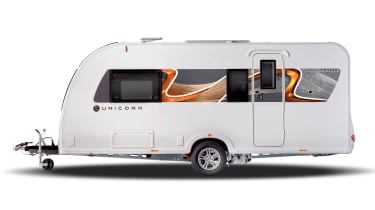 From: £28,199  Berths: 2
Partnership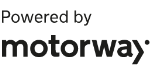 Need to sell your car?
Find your best offer from over 5,000+ dealers. It's that easy.
This classic touring layout has been around for decades – and with good reason. Dispensing with a fixed bed keeps the footprint as compact as possible and makes the most of the space available to create a lightweight, easy-to-tow caravan with an outstanding washroom. The Seville is focused on the core couple's market, with no concessions to multi-berth flexibility and with an all-up weight of just 1,415kg, it can be towed by a compact fuel-efficient towcar. 
The roomy lounge has ample space for two, and the wonderful end washroom and well equipped kitchen are designed for self-sufficiency – allowing couples who really like to get away from it all to camp in comfort on remote sites with basic facilities off the beaten track.
Pros: Generous level of standard equipment with the latest connectivity options readily available. Space-efficient lightweight layout. Outstanding washroom.
Cons: The main bed needs making up before turning in for the night. No concessions to multi-berth flexibility.
Coachman VIP 460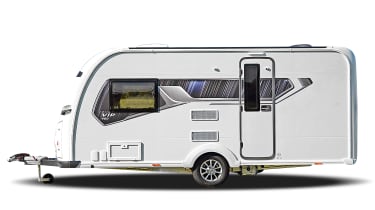 From: £30,640  Berths: 2
This is an out and out couple's caravan with a good standard specification that can be easily towed by a modest towcar. It's very much at home exploring the roads less travelled and overnighting at remote sites with only the bare essentials. 
The layout is identical to the Bailey Unicorn Seville's (above), sporting a large end washroom and a space-efficient lounge, which converts into a large double bed or twin singles. The standard equipment includes programmable central heating and a wireless phone charging station, while the options list runs to a solar panel, DAB radio and 4G internet. 
To take the stress out of pitching up after a long drive, a self-levelling system will get the caravan level on the pitch for an extra £3,450.
Pros: Lightweight luxury for adventurous couples who like to expand their horizons. Excellent washroom.
Cons: Enhanced connectivity options aren't included in the basic price. No concessions to family multi-berth flexibility.
Elddis Avante 454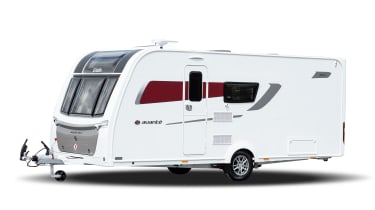 From: £22,344  Berths: 2
The Avante 454 takes a different approach to delivering a couple's lightweight touring caravan by dispensing with the large end washroom and replacing it with a transverse island bed that doesn't require making up before bedtime. Inevitably, this means there's less room for ablutions, but for caravanners who prefer to stay on larger sites with comprehensive facilities, that's not too much of a worry. 
The 454 also sports an L-shaped lounge, which is great for informal entertaining, but perhaps less well suited to dining in with friends. This caravan is less lavishly equipped than some of the more upmarket two-berths in our selection, but at 1,310kg all up, it can easily be towed by a modest towcar.
Pros: Great value for money. Lightweight fixed-bed tourer with good standard spec for the price. Roomy and comfortable L-shaped lounge. 
Cons: Lacks some of the modern connectivity provided by more expensive rivals. Layout means washroom is relatively cramped
Sprite Alpine 4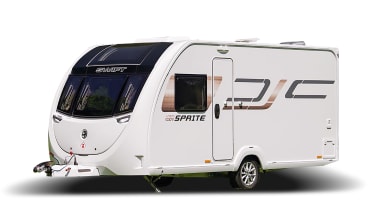 From: £21,195  Berths: 4
Sprite is an iconic name in caravans, evoking memories of carefree family holidays for many middle-aged couples who may now have children or even grandchildren. 
The Alpine 4 is primarily a couple's caravan with a bit of flexibility to take younger guests for occasional sleepovers. The fixed bed needs no making up in the evenings, and the front lounge converts to a transverse double come bedtime. 
A narrow 7ft 2in bodyshell saves weight, but the tiny corner washroom feels pretty cramped, and there's precious little room behind to get past the chef at teatime. On the upside, the Sprite can be towed by a family hatchback, is simple to manoeuvre on site and relatively easy to store on a driveway at home.
Pros: Lightweight and easy to store on a driveway thanks to narrower bodyshell – saving on additional storage costs. Towable with a hatchback.
Cons: Nowhere for the grown-ups to sit and wind down after the kids have gone to bed. Cramped washroom.
Xplore 554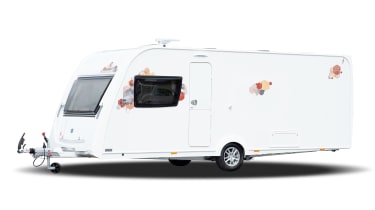 From: £19,644  Berths: 4
The Xplore 554 is a brave attempt to offer multi-berth flexibility and fixed-bed comfort on a lightweight chassis that's easy to tow at an attractive price point. It also incorporates a desirable end washroom on a single-axle chassis to save weight. 
While it works well as a comprehensively equipped couple's van that ticks pretty much all the boxes, space is likely to be squeezed with four on board. The 7ft 2in bodyshell is great from a towing and storage perspective, but it does limit the habitation space. 
As you'd expect at this price, the specification is basic, but comfort levels are fine for spring and summer touring and occasional sleepovers with the grandchildren.
Pros: A lot of caravan for the money – and it ticks an awful lot of boxes. Easy to tow and store. Flexible family-friendly layout.
Cons: Maybe trying a little too hard to be all things to all people. Standard spec is pretty basic and storage space is at a premium.
Compass Casita 585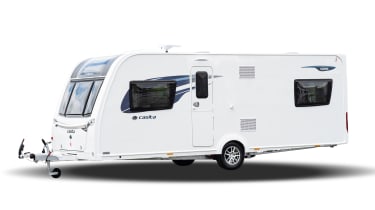 From: £23,644  Berths: 5
A new addition to the Compass range, this cleverly packaged multi-berth makes the most of the space across two separate lounges that double as bedrooms. Creating separate spaces for adults and children is one of the secrets to happy family caravan holidays and the Casita is one of the best examples of this on the UK market. 
With its traditional parallel seats, the front lounge is the best bet for mealtimes, while the L-shaped rear lounge is an ideal play space for kids when the weather isn't playing ball. At night-time, the rear lounge converts to a double bed with an optional pop-up bunk above for the kids, leaving the front lounge free for mum and dad to relax in once the children have been safely tucked in.
Pros: A wonderfully flexible all-rounder that will cope with the needs of a growing family. Innovative design creates separate spaces for adults and children. 
Cons: All the beds need to be made up every night. Washroom is on the small side for hosing off kids before bedtime.
 Caravans and motorhomes on Auto Express...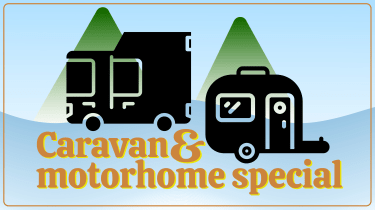 Caravans
Motorhomes
Towing