Toyota gives industry a lift with free THUMS crash test software
Japanese manufacturer wants any company to be able to benefit from its human crash modelling software in the interests of safety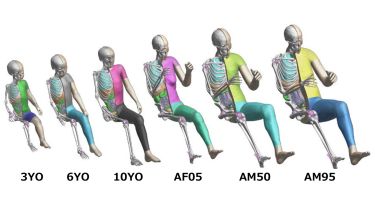 Toyota is opening up access to its virtual crash testing and human modelling software, allowing different companies to use it for free.
THUMS (Toyota Human Model for Safety) is a computer programme that simulates car crashes and analyses the types of injury a human can sustain in various scenarios. Its purpose is to improve the safety of newly designed cars, systems and equipment.
The programme was first launched in 2000 and has been developed over the last 20 years. Today, THUMS can replicate the effects of an impact to the skeleton, internal organs and muscle tissue across people of different genders, ages and physiques.
Now, Toyota has announced it's making THUMS free for anyone to access from January 2021. The firm hopes this will not only allow other manufacturers to use it to make their cars safer, but also that the additional feedback will allow further improvements to be made to the programme.
Over 100 vehicle manufacturers and other organisations already use THUMS globally. The system has been used in the development of seatbelts, airbags, and vehicle structures for reducing pedestrian injuries. In addition, vehicle safety assessment organisations are considering using the software for virtual testing.
Seigo Kuzumaki from Toyota's advanced R&D and engineering department said: "Since THUMS was launched, we've been making improvements and working hard to better reproduce the human anatomy and expand the variations in our models.
"It has become indispensable to Toyota's efforts to develop safety technologies and vehicles. We decided to make the software freely available so that more people can use it and further improve vehicle safety across the entire automotive industry. This should help reduce traffic injuries and fatalities, creating a safer society."
The news comes after Toyota granted free access to nearly 24,000 patents relating to hybrid and electric vehicles in order to help other brands develop these types of car.
Check out our round-up of the safest cars currently on sale...