Toyota set for new performance brand
Toyota's executive vice president reveals why the manufacturer may get its own performance brand soon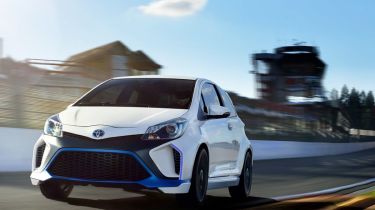 Toyota may have its own performance brand within the next couple of years, as revealed by Karl Schlicht, executive vice president at Toyota Europe.
Following the unveiling of the Yaris-based Hybrid-R concept at the Frankfurt Motor Show, Schlicht told Auto Express that the company is "Currently discussing sport lines for Toyota models".
He went on to say that he believes there is "An appetite for Toyota to do credible performance cars". Schlicht was keen to point out that the Hybrid-R was nothing more than a concept. Nevertheless with Toyota's expertise in hybrid technology, the R's petrol-electric performance powertrain seems like a sensible route to take.
The new performance cars could also wear the TMG badge after Toyota Motorsport GmbH, the company that prepares all of Toyota's racing cars. As well as its new performance brand Schlicht went on to say that a new flagship Supra replacement is still a consideration, and a convertible version of the GT86 is still yet to be decided upon.
Toyota is also working on a new TNGA (Toyota New Global Architecture) that will underpin its future car line-up. The new architecture will debut in the new Prius – due in 2015 – but when asked if it could underpin everything from an iQ to an Avensis, Toyota bosses replied that it would be theoretically possible to some extent.
It's all part of Toyota's commitment to build a better range of cars, as Schlicht revealed: "Beyond the cost-saving benefits, you'll also get a more rigid chassis and you'll be sitting lower in the car". Using TNGA across all models will also allow technology developed for larger cars to also slot in to smaller cars more easily.