New Toyota Auris pictures leak
Scanned Japanese brochure reveals pictures and details of the new Toyota Auris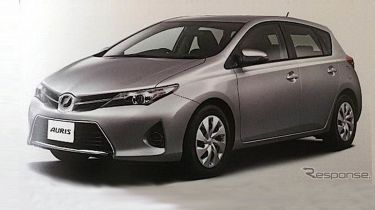 A whole host of pictures and a raft of new details about the forthcoming Toyota Auris have been leaked on to the Internet, courtesy of a scanned Japanese brochure.
The leaked pictures match up to spy shots sent to us by Auto Express reader, Kevin Pease, revealing a completely overhauled front fascia with narrow swept-back headlights and a more prominent grille. 
Toyota has also reportedly made the Auris even bigger, meaning it is now 30mm longer than the car it replaces, freeing up more legroom for rear passengers.
The interior pictures reveal a more understated design featuring chrome detailing but Toyota will focus on improving interior quality, though, to help bring the Auris in line with class-leading models like the Golf and Focus. 
The engine line-up is revealed to include include a 1.8-litre petrol, producing 142bhp and a 2.0-litre diesel. As of 2014, Toyota will introduce new 1.6 and 2.0-litre diesel engines to the Auris range, sourced from BMW. A hybrid model using the same powertrain as the Prius will also make an appearance.
The all-new Toyota Auris will make its European debut at the Paris Motor Show in September before going on sale in early 2013.