New 90mpg, 4WD Toyota Prius shapes up
All-new Toyota Prius will be capable of 90mpg and 70g/km emissions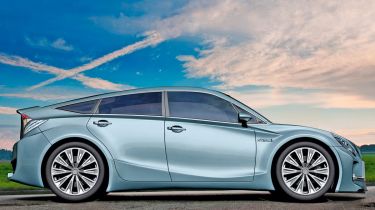 The next Toyota Prius will be four-wheel drive, capable of 90mpg-plus and launch in 2015 alongside a plug-in version – and our exclusive image shows it'll get a stunning look to match its technology.
The details were leaked by a Toyota engineer, who told Auto Express that "the next Prius will redefine the hybrid as we know it".
A new 'C' platform will help the Prius shed 70kg. Our source also said: "The current 1.8-litre engine will be modified, while the inverter and motor will be downsized, but will deliver more power."
The end result will be a car that's not only quicker than at present, but also capable of more than 90mpg fuel economy and with CO2 emissions of under 70g/km – that's about 25 per cent better than the existing Prius.
A similar improvement won't be possible with the new plug-in version – the current model manages 134mpg and 49g/km – as Toyota doesn't see the charging structure advancing fast enough, according to the insider. The brand doesn't want to hike the current plug-in Prius' £28,000 price, either.
However, both cars will get four-wheel drive. "The rear wheels will be driven by a motor in an e-4WD system," added the insider. "Targeting snowy areas, they will operate at up to 37mph."
There'll be a new design to go with the radical tech. "The bonnet height will drop by at least 90mm and the car will lose its wedge shape," we were told. "The A-pillar will move backwards and the roofline will be pushed forward by around 500mm." Our image reveals a shape designed to be sleeker without denting the aerodynamics or practicality.
There's expected to be about 500 litres of boot space – enough to hold four sets of golf clubs.
Surprisingly, the regular Prius will keep its nickel-metal hydride batteries, with advanced lithium-ion tech reserved for the plug-in model. Toyota engineers still feel the cheaper, old-style batteries manage power delivery better when it comes to intensive use and charging.