Renault Pro+: here when you need us (sponsored)
The Renault Business Commitment guarantees the level of service Renault Pro+ van customers can expect, with less downtime and no compromises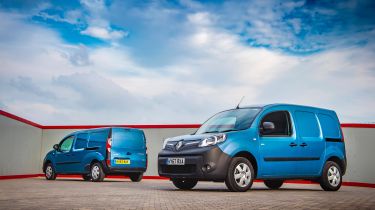 The people at Renault Pro+ understand the pressures and demands of running a successful business. They've constructed the Business Commitment for every business customer to help ease that burden, adding an extra dimension for peace of mind for all Renault Pro+ customers.
The Business Commitment guarantees the high standards of service that you can expect from Renault Pro+ with specific commitments that apply to different aspects of the van buying and ownership process. It means that you can get on with the job of running your business secure in the knowledge that Renault Pro+ has your van needs covered.
The Renault Pro+ Business Commitment focuses in on key customer requirements with the clear aim of ensuring Renault's Pro+ van dealers deliver the best service for businesses in today's Light Commercial Vehicle (LCV) marketplace.
If your vehicle has a warranty defect that will take more than three hours to repair, Renault Pro+ dealers will now offer you a Van-4-Van replacement*. As the name suggests, van owners will get an equivalently sized van that will enable them to continue their working day with minimum disruption. Business car owners will get a passenger vehicle similar to their own with our Car-4-Car commitment.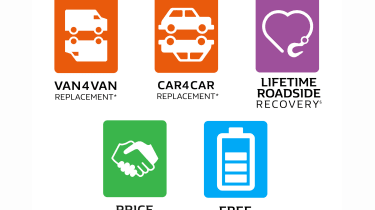 The Renault Pro+ Business Commitment is continually evolving. Free roadside breakdown cover through Renault Lifetime Roadside Assistance is now included for all eligible new vehicles§. Meanwhile, participating Renault dealers now offer Renault Z.E. electric vehicle customers the option of charging their vehicle for free on site˄.
In addition, Renault Pro+ is backing up its longstanding promise to offer the best value for money with a price promise, all as part of the Business Commitment. This means Renault Pro+ Business Centres will not be beaten on price and will match quotes provided by other local garages for comparable work using genuine Renault parts††. Terms and conditions do apply, but this is a great added assurance for customers that their Renault Pro+ Business Centre is intently focused on delivering the best value for money at all times.
Renault Pro+ Business Centres are confident in the high standards of service they're able to provide to all their customers and the Business Commitment they adhere to underlines just how confident. It means van buyers and van owners know exactly what they can expect from Renault Pro+.
For more information as well as the full terms and conditions, visit the Renault Pro+ website
*A replacement vehicle will be provided subject to the fault occurring within the warranty period and the repair being covered under the Renault manufacturer's warranty. A replacement van or car of equivalent size will be provided, but will not include any conversions or installations. You will be responsible for the payment of a £1 deposit by debit/credit card. Commitment excludes any other incidental charges including but not limited to fuel, insurance excess and traffic fines.
§Eligible on LCVs (Master/Trafic/Trafic Passenger/Kangoo) ordered from 1st October 2018 which have complied with the MOT and Servicing guidelines and time schedules set out in the manufacturers guidelines (as set out in the vehicle handbook).
††The quote must be supported by an official quotation from a VAT registered garage within a 15 mile (rural)/ 10 miles (urban) radius from the relevant Renault dealership, for a like-for-like repair (strictly limited to repairs in accordance with Renault's manufacturer guidelines and repair methods) using Renault original parts. The quotation must have the parts and labour itemised separately. The relevant quote date must be dated within 60 days of the quotation being presented to the relevant Renault dealership. Excludes quotations containing special offers and discounts.
˄Subject to charging point availability. Participating dealers only, please visit https://www.renault.co.uk/dealer-locator.html to search for services available. Fair usage applies and limited to 4 hours per day.
Renault UK Limited reserves the right to amend or withdraw the Renault Business Commitment at any time, without any further notice.